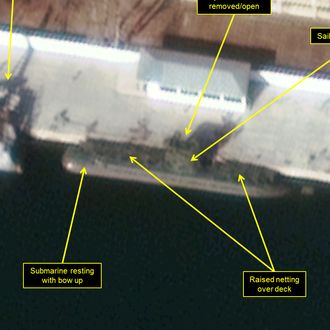 Image purported to show a facility that is part of North Korea's ballistic missile submarine program in the coastal city of Sinpo.
Photo: DigitalGlobe/ScapeWare3d/DigitalGlobe/38 North via Getty Images
South Korean officials say that North Korea has launched what appears to have been a submarine-fired ballistic missile, according to the Associated Press. The presumed test is but the latest provocation by the rogue country's regime in Pyongyang, after another likely ICBM test in February and a supposed hydrogen bomb test in January, amid an assortment of other, often suspect statements about its military capabilities. CNN reports that there was some kind of failed missile test by the regime a week ago as well. North Korea had previously tried to launch a submarine-launched ballistic missile in December, but that launch failed. Submarine-fired missiles are more difficult to detect and anticipate, especially in comparison with North Korea's previous land-based launch efforts. It is not yet clear where Saturday's missile landed, but it apparently flew roughly 30 kilometers and "away from South Korea and Japan," according to a U.S. official. The missile's flight took it only about a tenth of the typical range of a submarine-fired missile.