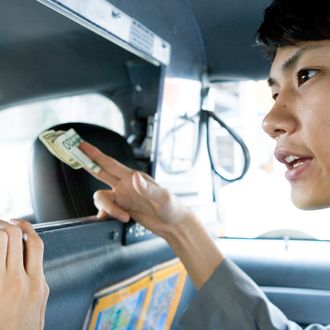 Hmm, do we have to talk now?
Photo: Absodels/Getty Images
What would a ride in a New York City yellow cab be without that slat of bulletproof glass between riders and drivers — the one you must press your face up against to make sure the driver hears your address, or awkwardly slip your hand through to hand over a fare? Well, imagine no more. Those glass partitions may officially be headed for retirement, after the Taxi & Limousine Commission announced that cabs can remove the dividers between drivers and passengers. 
A report in the New York Post says this decision represents an attempt by the TLC to help cabbies compete with foes like Uber and Lyft. Partition-free rides, the TLC believes, will generate more tips and make riders feel more comfortable. "When there's no partition, a driver can have a conversation with the passenger," a TLC board member told the Post. Oh, great.
Cabbies (or, really, the medallion owners) won't be forced to take out the partitions. And if they do, there's a slight trade-off: They'll have to install security cameras, though it's unclear how much that will cost. Some cabbies are against the move either way, saying they're still concerned about safety without that plate of glass separating them from passengers. Also, who says they want to talk to us, anyway? 
The partitions, in some ways, are relics of another era. The TLC required them in 1994, with a few exemptions, because of crime and violence fears. A total of 42 cabbies were murdered in 1993, including seven yellow-taxi drivers, which sparked the fierce debate. At the time, plenty of cabbies opposed putting in the partitions, despite the risks. Drivers cited a decrease in tips, plus concerns that the air conditioner wouldn't reach riders in the back seat. Also, apparently that tall people wouldn't feel comfortable, according to a 1993 New York Times report.
But it may be a while before these partitions actually disappear, if at all. The TLC also approved a measure to stop installing those Taxi TVs in October, but pretty sure people are still hearing Sandy Kenyon movie reviews every time they slip into a taxi's back seat.