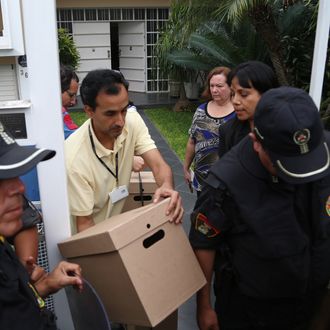 Tax authorities are escorted by police as they retrieve documents from Mossack Fonseca.
Photo: STR
Although Panama-based law firm Mossack Fonseca has maintained its innocence in regards to the Panama Papers leak (and has even claimed to be the victim), Panamanian officials aren't convinced. On Tuesday, organized-crime prosecutors raided the law firm's offices in search of evidence linking the firm to illegal activities, the Associated Press reports. A half-dozen police officers set up a perimeter while prosecutors searched the office for incriminating documents.
The attorney general's office said searches were also conducted at subsidiaries of the firm and that the official purpose of the raid was to, "obtain documentation linked to the information published in news articles that establish the use of the firm in illicit activities." It's unclear whether any such documents were discovered.
The search comes a day after intellectual-property prosecutors visited Mossack Fonseca to investigate its claim that the data leak was the result of a hack into the firm's computer system. Ramón Fonseca, one of the firm's founding partners, maintains that his firm is innocent of all tax-evasion and fraud charges and that said hypothetical hack was the only crime committed. He said he believed the hack originated in Europe, but declined to give any further details, telling the AP only, "finally the real criminals are being investigated."
Fonseca said that the firm hasn't destroyed any documents, and on Tuesday, the firm tweeted (in Spanish) that it's cooperating fully with authorities. Earlier this month, Fonseca compared the scandal to a "tropical storm, like the ones we have here in Panama where once it passes the sun will come out." He went on, "I guarantee you that we will not be found guilty of anything."