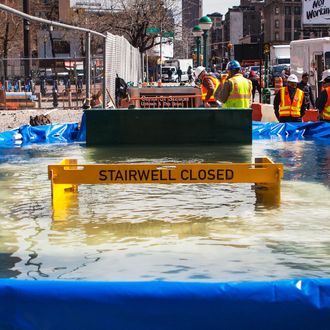 Testing at the Canal Street Uptown 1 Wednesday.
Photo: Konstantin Sergeyev
The entrance to the Canal Street stop on the uptown 1 train disappeared on Wednesday afternoon, replaced by what looked like a brackish backyard swimming pool left uncovered through the winter. An orange sign poked up from the brackish pool that said STAIRWELL CLOSED — as if it were possible to assume otherwise. But the pop-up pond, which was pretty much dismantled by day's end, was actually a test run for one of the MTA's solutions to protect the subway system and its infrastructure against the next Superstorm Sandy.
Wednesday's test focused on something called "Flex-Gate," which essentially works like a giant seal to block torrential rains and flood waters from rushing down the subway stairs and washing out the station. Right now, the Flex-Gate is installed only at the Canal Street Uptown 1 train station, says MTA spokesman Kevin Ortiz, and it's still in its testing phase. Ortiz explained a bit about how it works: Crews roll out what looks like a giant tarp — the Flex-Gate — from a tall metal storage box opposite the subway street entrance. That stretches across the entire length of the stairwell opening. It's secured right at the head of the stairs, sealing up the entire space so (most) water stays out.  
The Flex-Gate can be put in place fast — about ten minutes or less — and it retracts right back into that storage box once it's no longer needed. ILC Dover, which invented and installs the device, likens it to a "roll-up security door" that you'd see in front of a storefront building, except instead of a metal gate, this is made of with a lot of Kevlar and created to withstand gallons and gallons of water.
The Flex-Gate test was successful, says Ortiz, a good thing for the subway station below — and really, for the rest of the system. These dry runs will help the agency figure out if they can put this device at vulnerable stations to guard against the next major storm. "It's one of many things that we're trying to keep water out of the system," he says.