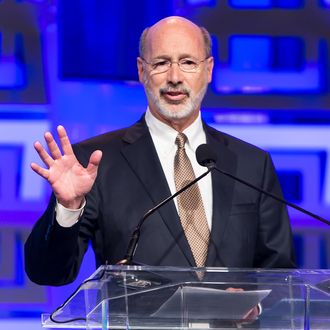 Photo: Gilbert Carrasquillo/2015 Gilbert Carrasquillo
Pennsylvania governor Tom Wolf signed two executive orders on Thursday to protect LGBT residents against employment discrimination, Politico reports.
One order bans discrimination "against any employee or applicant for employment on the basis of race, color, religious creed, ancestry, union membership, age, gender, sexual orientation, gender expression or identity, national origin, AIDS or HIV status, or disability." The second imposes similar nondiscrimination requirements in awarding state contracts and grants.
Last week, the governor issued a statement sharply critical of North Carolina's new anti-LGBT law banning transgender people from using bathrooms that do not match the sex on their birth certificate. According to the Associated Press, Wolf chose to act after anti-discrimination bills protecting LBGT Pennsylvanians were introduced in the state legislature but stalled there.
In his announcement of the executive orders on Thursday, Wolf lay the blame for the holdup on Pennsylvania Republicans. "With no sign that Republican leaders plan to free this bill that has broad, bi-partisan support," he said, "I am taking action to protect those that I can and send a signal to the country that Pennsylvania is open for business no matter who you are or whom you love."
North Carolina's new law, which purports to protect religious freedom, has drawn condemnation from business leaders and politicians in other states, including New York mayor Bill de Blasio and governor Andrew Cuomo, both of whom have banned nonessential government travel to North Carolina in protest.
A law similar to North Carolina's was signed in Mississippi this week. Georgia governor Nathan Deal was presented with such a bill as well, but he vetoed it after coming under pressure from business interests in the state. South Carolina state legislators are also considering their own "bathroom bill," but Governor Nikki Haley said on Thursday that such a law is unnecessary.