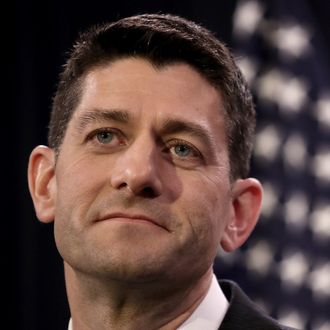 Audacity of Nope.
Photo: Win McNamee/Getty Images
Bad news for anyone who was hoping our next president would be a devotee of CrossFit and fiscal austerity: Paul Ryan has promised he won't accept the Republican nomination, even if his name is submitted for a vote at a contested convention.
"We have too much work to do in this House … to have my motivations questioned," Ryan said. "I do not want, nor will I accept the nomination for our party."
Ryan went on to argue that only candidates who competed in the primary process should be considered for the nomination, saying, "I believe you should only chose a person who has actually participated in the primary."
Speculation about Ryan's presidential ambitions had intensified in recent days, as the House Speaker released what looked like a campaign advertisement but was, apparently, just a public service announcement about how serious and civic-minded he is.
"Just because I'm not running doesn't mean that I'm going to disappear," Ryan assured reporters Tuesday. Ryan explained that his recent speech on the state of our politics was part of a broader mission to offer the American people a conservative policy vision to consider in November.