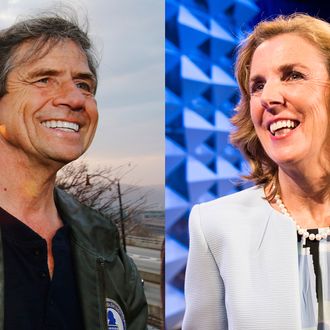 A Democratic Senate primary in which the president and vice-president have become involved revolves around grievances from 2010.
Photo: Jason Cohn For The Washington Post via Getty Images, Bill Clark/CQ Roll Call
Some Democratic Senate primaries have a clear ideological dimension, such as the close Maryland battle between House colleagues Chris Van Hollen (backed by the entire party Establishment) and Donna Edwards (a self-conscious progressive), or California's contest involving veteran centrist Loretta Sanchez and rising progressive star Kamala Harris. 
But in Pennsylvania's increasingly brutal Senate primary, which concludes next Tuesday, the fight is less about ideology than about personality — a battle for the body, not the soul. Former representative and 2010 nominee Joe Sestak wants a rematch with Pat Toomey, and after looking high and low for an alternative, party elites in Pennsylvania and Washington have united behind Katie McGinty (recently chief of staff to governor Tom Wolf, and best known in D.C. as a high-ranking environmental official in the Clinton administration). Thanks in part to DSCC money (roughly a million smackers) and in part to endorsements from the president and vice-president, McGinty has a decent chance of knocking off Sestak (a late poll from Monmouth has the race tied, though a contemporaneous Franklin & Marshall survey has Sestak up by nine points).
What you generally hear about Sestak from Establishment-oriented Democrats is that he blew a winnable race against Toomey in 2010 because he wouldn't take professional advice, and he hasn't changed his habits since then, and so would probably screw it all up again. (An additional factor is that he beat Republican-turned-Democrat Arlen Specter in the primary, which took out a positive role model for future party-switchers).  In this Year of the Outsider, Sestak's playing his independence for all it's worth, and it's probably earned him some lefty support on enemy-of-our-enemy grounds even though it's not clear he's more liberal than McGinty, whose mentor is Al Gore (another supporter in the primary). McGinty is about as un-mavericky as you can get, which warms the cockles of many a consultant's heart but embitters Sestak's people. 
Toomey's enjoying the show and is currently leading both Democrats by similar high-single-digit margins. But with Donald Trump or Ted Cruz heading the ticket, Toomey might be swimming against undercurrents too powerful to resist. Whoever wins Pennsylvania's match of old grudges should be a modest favorite for November so long as the intra-party wounds are properly treated.