Last month, as Governor Cuomo and legislators in Albany considered a plan that would raise the state's minimum wage to $15 an hour, but do so faster in the five boroughs than upstate, we were reminded that the boundaries of "upstate New York" are very much up for debate. Indeed, even politicians in Yonkers, right there on the border of the Bronx, couldn't form a consensus. And a new poll, conducted by Public Policy Polling, confirms that, yep, New Yorkers don't agree, at all, on what's considered upstate.

In the survey of 1,403 New York voters, respondents were asked which of the following best defines upstate New York: everything north of New York City, everything north of Westchester County, everything north of Poughkeepsie, and and everything north of Poughkeepsie (but excluding the Buffalo area).
The results tell us what we already assumed: There's no consensus. Each of the first three of those options had considerable support. "North of Westchester County," at 29 percent, was the most popular answer. "North of New York City" came in second, at 25 percent. And "North of Poughkeepsie" was third, with 22 percent. Only seven percent responded that upstate was everything north of Poughkeepsie but excluding the Buffalo area. (That last camp, presumably, includes those who believe that "Western New York" is its own distinct category.) Nine percent said the answer was "something else," while seven percent said they were unsure.
But broken down by region, some responses were more popular in some areas than others.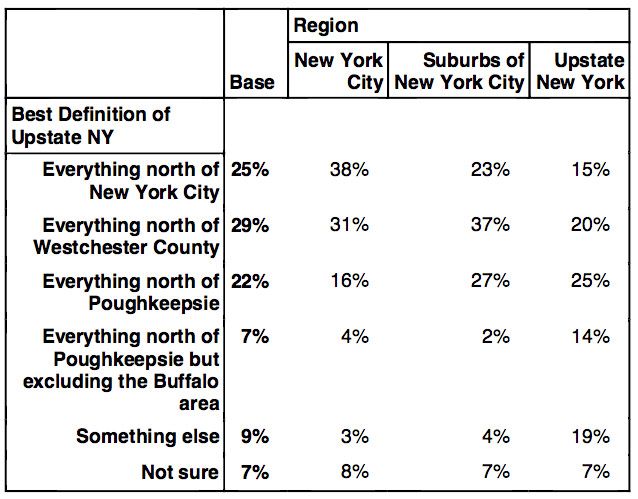 Perhaps unsurprisingly, the most popular response among respondents from New York City was that upstate is defined as anything north of the five boroughs. Among self-described residents of the New York City suburbs, the most popular answer was everything north of Westchester County. And among self-described residents of "upstate," the most common response was that "upstate" is defined as everything north of Poughkeepsie.