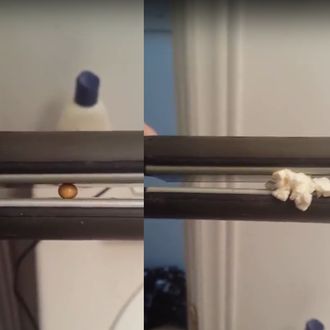 Who wants to eat an entire bag of popcorn? It's just so filling, what with all that air. For people looking for a more sensibly portioned snack, it turns out it's easy to pop a single kernel of corn using something you might already have in your bathroom: a hair-straightening iron.
Take a look at this video. It takes just 16 seconds of squishing the kernel in the hot iron to turn it into a delicious snack, which I assume doesn't taste at all like shampoo or styling gel.
The video hasn't even cracked 100,000 views on YouTube yet, but it already found its way to the No. 1 spot on the /r/Videos subreddit.
Plus, I've already watched it about 6 billion times this morning, so the view counter should be skyrocketing shortly.
Last week, a similar video made the rounds on Twitter, when more than 14,000 people retweeted a video of a Japanese guy making popcorn with a flat iron and then screaming maniacally at his culinary innovation. As they say: Two is a trend. (They say that, right?)
The guy behind that video told BuzzFeed that he didn't actually eat the piece of popcorn, but that it was "insanely stiff." Yum.