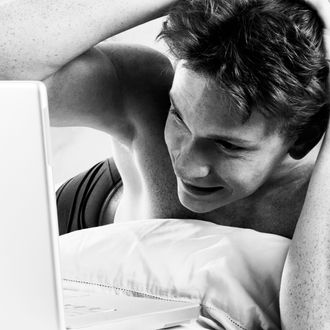 Photo: Medioimages/Photodisc
North Carolina's horrible new anti-LGBT law, which prevents local governments from passing laws protecting the civil rights of gay and transgender citizens, has attracted attention from, well, everyone: Disney and Time Warner have threatened boycotts, and Bruce Springsteen canceled a concert in the state in protest. And I mean everyone: The porn site XHamster placed an IP ban on the state Thursday, effectively blocking anyone in North Carolina from visiting the site.
Anyone trying to access XHamster from a North Carolina IP address starting Monday is greeted with only a black screen, and site spokesman Mike Kulich told the Huffington Post that it eventually plans to replace that with a petition protesting the law.
Kulich added that this past March alone, the site was searched for "transsexual" more than 400,000 times and "gay" more than 300,000. "Hopefully, [the petition] will get as many signatures as the 'transsexual' searches," Kulich told HuffPo. ("Transsexual" is a slightly outdated term, but, well, you write your statement with the porn-site searches you have, not the porn-site searches that would be respectful.)
The ban will probably reach a considerable number of visitors — XHamster is currently the 91st-most-visited site in the world, according to Alexa. "I think that porn has the power to do what Bruce Springsteen can't," Kulich estimated. It probably won't stop people from doing whatever they do on porn sites, though. There are a few others out there on the net.