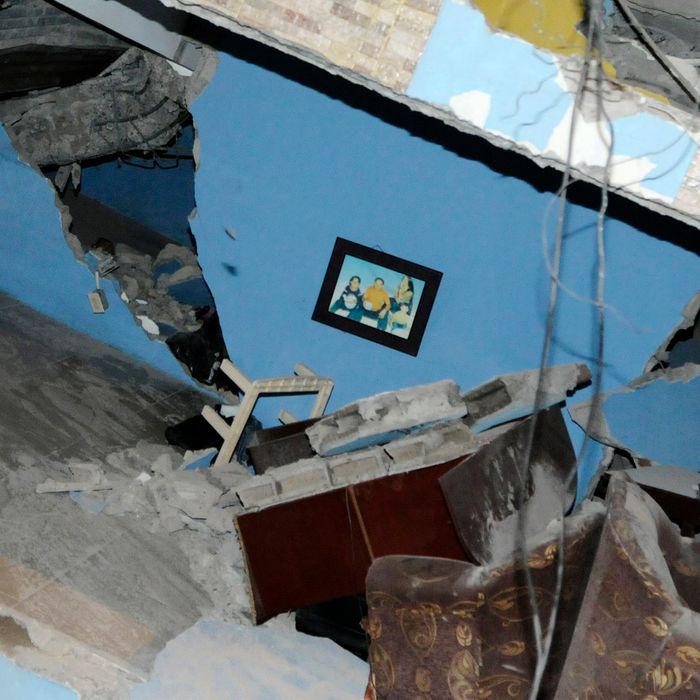 Debris of a fallen building in the city of Guayaquil.
Photo: Marcos Pin Mendez/AFP/Getty Images
Six provinces of Ecuador are in a state of emergency after a 7.8 magnitude earthquake struck off of the country's Pacific coast Saturday night, killing at least 235 people, according to the Associated Press — and that total is expected to rise. Reuters reports that the quake, which was centered among Ecuador's sparsely populated fishing villages and tourist beaches about 100 miles northwest of Quito, absolutely devastated the country's coastal communities. It also collapsed buildings in the southern commercial center of of Guayaquil, the country's most populous city, and took lives in other big cities distant from the epicenter. The full scale of the destruction is not yet clear due to resulting communication and transportation problems, but 1,577 people have been reported injured thus far, and an unknown number still remain trapped in collapsed structures throughout the country. A tsunami warning was issued and many coastal residents were reportedly seeking higher ground after the quake, but the warning was later lifted.
The mayor of the town of Pedernales, which was near the epicenter, said that "the entire town" of some 40,000 residents had collapsed and begged the federal government to send rescue workers and earth moving equipment.  
More than 10,000 of the country's armed forces, and 4,600 of the country's national police officers have been mobilized to respond to the disaster, but numerous road closures caused by landslides are impacting their mobility.
This post has been updated to reflect new details in the developing story.