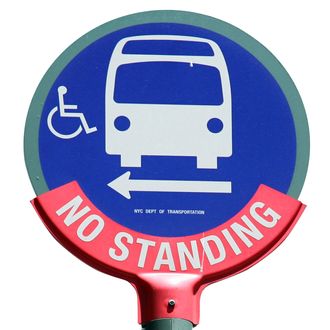 You can't move one of these without permission.
The Trade Fair supermarket at 99-10 Astoria Boulevard in East Elmhurst was looking to add parking for its customers on a nearby vacant lot, but it had a problem: An existing bus stop didn't leave any room on Astoria Boulevard for cars to turn into it. So the store allegedly took matters into its own hands and had workers dig up the sign and move it six feet down the street, so they could install a curb cut in front of it. Unfortunately for the store, though, none of that's legal, and it got caught.
A Department of Transportation spokesperson tells the TimesLedger that it'll be moving the sign for the Q19 and Q49 buses back to its original location and will be issuing violations. The Department of Buildings tells the paper the store's owner didn't apply for the curb cut, either.
Local politicians were appalled by the supermarket's stunt. City Councilwoman Julissa Ferreras-Copeland told the paper, "This is not only blatant disregard for the city's planning and transportation system but it is illegal and dangerous." And State Senator Jose Peralta said, "It is unreal, to say the least, that a business decided unilaterally to move a bus sign for its own advantage," adding, "This is public property, and for a supermarket to act like this goes beyond any logical reasoning."
A spokesperson for the supermarket chain declined to comment to the paper.