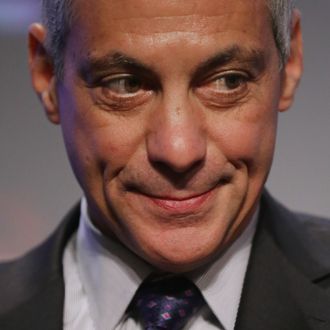 Rahm Emanuel taking baby steps.
Photo: Chip Somodevilla/2016 Getty Images
Chicago residents have been demanding Mayor Rahm Emanuel's head since a video of Chicago police officers shooting and killing 17-year-old Laquan McDonald was released in December. In response to the controversy, Emanuel commissioned the Police Accountability Task Force to investigate his own police department, and earlier this month, the task force found that the Chicago Police Department was "plagued by systemic racism" and that people of color had good reason to mistrust police. Based on these findings, Emanuel has announced he'll make some changes to the police department — but so far he's only planning to implement about one-third of the task force's recommendations. 
According to the New York Times, Emanuel has immediate plans to facilitate community meetings in which Eddie Johnson, the new police superintendent, will discuss race, bias, and other issues with residents. He'll also increase crisis-intervention training for both officers and 911 dispatchers to better enable them to spot signs of mental illness and set up an early intervention system (complete with anonymous hotline) to identify officers who break rules.
Together, however, these changes only represent about 30 percent of the "76 specific recommendations" the task force made to improve policing in Chicago. In particular, critics have been quick to point out that Emanuel has no plan in place to overhaul the department's Independent Police Review Authority, which is in charge of investigating police shootings and severe misconduct.
In its review, the task force found major flaws in the authority: "Cases go uninvestigated, the agency lacks resources, and IPRA's findings raise troubling concerns about whether it is biased in favor of police officers," it wrote. Although city officials have said they'll consider "options for structural reform" and Emanuel wants to audit the IPRA's past findings, advocates are pushing for a truly independent civilian police-monitoring authority.
Emanuel told the Chicago Sun-Times that he doesn't want to make any hasty moves. "If you're going to make changes, you don't want the Justice Department coming and saying, 'You got that wrong. Now, do it again,'" he said. "Nothing can be worse than trying to do this twice."