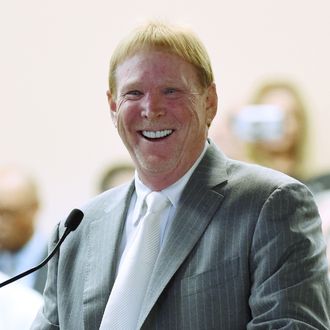 "We're not using Las Vegas as a bargaining chip," says Raiders owner Mark Davis. "This is real."
Photo: Ethan Miller/Getty Images
Ever since the Raiders learned that they'd likely be shut out of their attempt to move to Los Angeles, there's been speculation that the team could attempt to relocate to San Antonio, or maybe San Diego, or perhaps Las Vegas. And now team owner Mark Davis seems to have settled on a preferred destination and says he wants to move the team to Vegas, pledging to spend $500 million ($200 million of which would come from an NFL loan) on a $1.4 billion domed stadium there.
Speaking during a meeting of the Southern Nevada Tourism Infrastructure Committee at UNLV Thursday, Davis did not promise he'd move the team to Las Vegas, but the spending pledge could be a step toward eventually doing so. In January, Davis met with Sheldon Adelson, the CEO of the Las Vegas Sands (and a major GOP donor), who is spearheading the stadium project. The Sands would contribute another $150 million toward the stadium, and the rest, reports ESPN, would come from tourism taxes.
"We're not using Las Vegas as a bargaining chip," Davis said. "This is real."
The Las Vegas stadium would reportedly take three years to build, though the team could play some preseason games in the interim at the 35,500-seat Sam Boyd Stadium. In February, the Raiders signed a one-year lease to play the 2016 season at the Oakland Coliseum, in a deal that also includes two one-year options.
The NFL has long opposed putting a team in Las Vegas, where sports betting is legal, but Roger Goodell has softened on the league's opposition in recent weeks, saying that it's ultimately up to the league's owners to approve. Davis said he believes that if a stadium is built, owners will indeed approve the team's relocation there. Said the Raiders owner: "If we give them an offer they can't refuse, and that's what we're talking about now, I don't see a problem." Fair enough, but he might want to avoid using bungled references to Mafia violence as a means of making that point.