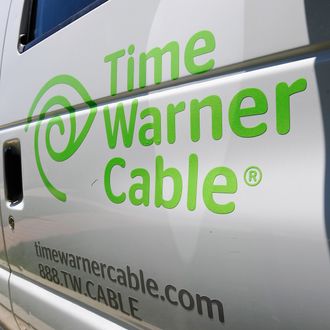 Charter is buying Time Warner Cable for $78 billion.
Photo: Kevork Djansezian/Getty Images
Time Warner Cable — the company New Yorkers love to curse when their internet goes out at the absolute worst possible time — is set to get a new owner. FCC Chairman Tom Wheeler has recommended approval for Charter Communications $78 billion acquisition of the company, and the Department of Justice, which had been looking into whether the deal would violate antitrust laws, has signed off, as well. The DOJ agreement also covers Charter's $10.4 billion takeover of Bright House Networks, and the new combined company would be the country's second-largest cable and internet service provider.
The approvals, however, come with some conditions for the new mega-company. Charter, for instance, has agreed to build out broadband service to 2 million more homes, half of which will be in markets where Charter competes with another high-speed internet provider. The company also agreed not to implement data caps and usage-based billing for as long as seven years. Charter also agreed to refrain from telling its content providers that they cannot also sell shows online. Said the DOJ in a court filing: "Continued growth of OVDs (online video) promises to deliver more competitive choices and a greater ability for consumers to customize their consumption of video content to their individual viewing preferences and budgets."
Charter began pursuing Time Warner Cable as far back as 2013. The following year, Time Warner Cable rejected those attempts, and Comcast (the nation's largest cable provider) instead attempted to buy the company for $45 billion. That deal fell through as regulators raised anti-trust concerns, and last year, Charter and Time Warner Cable resumed talks.  

No word yet on the future of NY1.