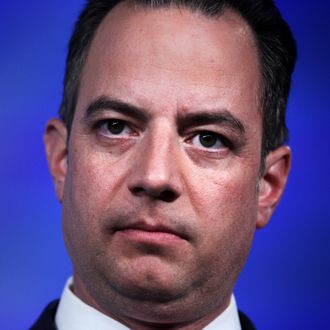 RNC chairman Reince Priebus argued against the rule change.
Photo: Alex Wong/Getty Images
The Republican National Committee on Thursday shot down a proposal to change the rules of the party's July convention in such a way as to make it harder for party leaders to muscle through a nominee more to their liking than Donald Trump or Texas senator Ted Cruz.
The proposal, sponsored by Oregon committeeman Robert Yue, would have recommended that the party scrap the convention rules it has followed for decades, which are based on the rules of the House of Representatives, and replace them with Robert's Rules of Order — a style of parliamentary procedure meant to facilitate decision-making as a group, according to Politico. Adopting Robert's Rules would give less power to the convention's presiding officer — House Speaker Paul Ryan — and more independent authority to the delegates themselves, as any delegate with an objection would have to be formally recognized by Ryan.
Yue advocated for the rule change out of fear that under the existing rules, Ryan could direct delegates to vote for a "white knight" nominee who didn't actually compete in the primaries. At a testy meeting on Thursday, several of his peers on the RNC's Rules Committee countered that to make a transparently self-serving rule change this late in the primary season would be, in the words of Georgia committeeman Randy Evans, "viewed with a very large degree of cynicism."
RNC chairman Reince Priebus came out against the idea last week, earning him the ire of Yue, who accused the RNC of "institutional tyranny" for trying to impede his proposal.
If this development makes it harder for the GOP to nominate a "white knight," it also may put the kibosh on any chance of nominating Ohio governor John Kasich, the rules committee's special counsel, James Bopp, told the Washington Times.
"Ironically, if Robert's Rules of Order had been passed, the nominations could have been reopened by a mere majority to allow Kasich to be nominated after the balloting had begun," he said. "This apparently closes the door on any chance that Kasich ever had to be nominated at the convention." In other words, thanks to its refusal to accept the rule change, it's increasingly likely the RNC will be forced to nominate either Trump or Cruz.