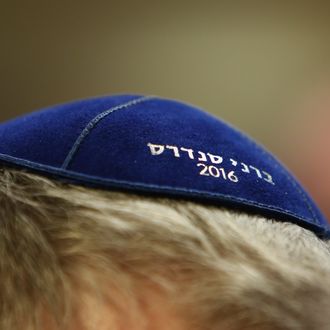 Photo: Charles Ledford/2016 Charles Ledford
Simone Zimmerman's tenure at the Bernie Sanders campaign might be over before it started. Days after her appointment as the campaign's new Jewish outreach coordinator, the New York Times reports that Zimmerman was suspended after disparaging comments she had made about Israeli prime minister Benjamin Netanyahu came to light.
On Wednesday, the Washington Free Beacon, a conservative outlet, dug up a Facebook post of Zimmerman's from last March in which she wrote: "Bibi Netanyahu is an arrogant, deceptive, cynical, manipulative asshole … Fuck you, Bibi, for daring to insist that you legitimately represent even a fraction of Jews in this world."
Ronald Lauder, the president of the World Jewish Congress, called on the campaign to fire her on Thursday morning, according to the Times. Zimmerman has not been fired, but Sanders spokesperson Michael Briggs told the Times that she had been suspended while the campaign investigates the matter.
Sanders, who is Jewish himself, said during Thursday's debate that he's "100 percent pro-Israel in the long-run," but that the Palestinian people ought to be treated "with respect and dignity" by the U.S. and other countries. He has also said he is "not a huge fan" of Netanyahu. He came in for some criticism from Israel supporters recently after overstating the number of civilians killed in Israel's 2014 war against Hamas in the Gaza Strip in his now-infamous interview with the New York Daily News.
Zimmerman, a native of Los Angeles, started out in the pro-Israel camp like many young American Jews, but over time she became an outspoken critic of Israel and its supporters in the American Jewish Establishment, joining the "pro-Israel, pro-peace" lobby J Street and eventually getting elected president of its campus outfit, J Street U, in 2012, according to the Jewish Telegraphic Agency.
Whether Zimmerman's decidedly negative views on Netanyahu would actually be a liability among the cohort of liberal Jews the Sanders campaign is looking to court is less clear. A Pew survey on American attitudes toward Israel last year showed that more Democrats viewed the Israeli prime minister unfavorably (35 percent) than favorably (28 percent), although most had no opinion at all.
That survey did not include a large enough sample of Jewish voters to analyze, but a 2013 poll of American Jews found that younger Jews and those who identified as Democrats were more likely to say that the construction of Jewish settlements in the West Bank was harmful to Israel's security and that the Israeli government was not making a sincere effort to achieve peace.