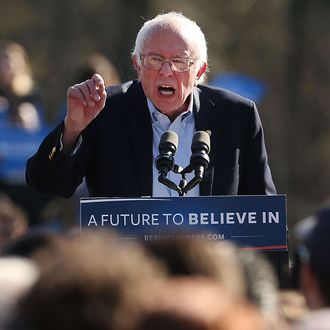 Bernie Sanders.
Photo: Spencer Platt/Getty Images
At George Clooney's fundraiser for Hillary Clinton last week, tickets ranged from $33,400 to $353,000 a piece. The Sanders campaign — which has, against all odds and mathematical probability, officially maintained an average donation of exactly $27 for several months — blasted those ticket prices as "obscene." A group of Sanders supporters welcomed Clinton's motorcade to Clooney's corner of Studio City by showering her car in 1,000 single dollar bills. 
Then, on Sunday's Meet the Press, Clooney said that Sanders was right: His fundraiser was obscene. But sometimes, obscenity is necessary. In this case, Clooney argued that soaking big-dollar donors for campaign contributions was a means of securing funds for down-ballot Democrats, which, in turn, would allow Clooney to never throw such an expensive dinner party again.
"The overwhelming amount of money that we're raising, and it is a lot, but the overwhelming amount of the money that we're raising is not going to Hillary to run for president, it's going to the down-ticket." Clooney told NBC's Chuck Todd. "And the reason that's important [is] … we need to take the Senate back because we need to confirm the Supreme Court justice, because that fifth vote on the Supreme Court can overturn Citizens United and get this obscene, ridiculous amount of money out so I never have to do a fundraiser again. And that's why I'm doing it."
The proceeds of the former ER star's fundraiser went to the Hillary Victory Fund — a joint committee for the Clinton campaign, the Democratic National Committee, and state party committees. As Politifact notes, the $353,000 entry fee covers (roughly) the maximum donation to each of these entities. An individual donor can give Clinton $5,400 — $2,700 for her primary campaign, that same amount again for her general election fund — then $33,400 a year to the DNC and $10,000 a year to each of the 32 state parties. Thus, the fact-checking site concluded that the overwhelming majority of the Clooney money is headed to down-ballot candidates.
But the Sanders campaign now alleges that the HVF's money doesn't always go where it's supposed to. Examining Clinton's FEC filings, the Vermont senator discovered that the Hillary Victory Fund may be laundering money earmarked for state parties into advertisements and mailers that benefit Clinton exclusively. In a letter to the DNC, Sanders's campaign attorney Brad Deutsch accuses the Clinton campaign of "serious apparent violations" of campaign finance laws.
"Bernie 2016 is particularly concerned that these extremely large-dollar individual contributions have been used by the Hillary Victory Fund to pay for more than $7.8 million in direct mail efforts and over $8.6 million in online advertising, both of which appear to benefit only HFA [Hillary for America] by generating low dollar contributions that flow only to HFA, rather than to the DNC or any of the participating state party committees," Deutsch writes. The letter goes on to say that, at best, "the joint fundraising committee's spending on direct mail and online advertising appears to represent an impermissible in-kind contribution from the DNC and the participating state party committees to HFA."
"At worst, using funds received from large-dollar donors who have already contributed the $2,700 maximum to HFA [Hillary for America] may represent an excessive contribution to HFA from these individuals," the letter continues. 
Over the weekend, Politico published a report on Clinton's first-quarter campaign spending that largely affirms Sanders's complaint. During the first three months of 2016, the Hillary Victory Fund spent $6.7 million on online ads and $5.5 million on direct marketing, which "mostly looked like Clinton campaign ads," in the estimation of Politico's Kenneth Vogel. The HVF transferred $2 million to state parties over the first three months of 2016. It transferred $9.5 million to Clinton's campaign committee.