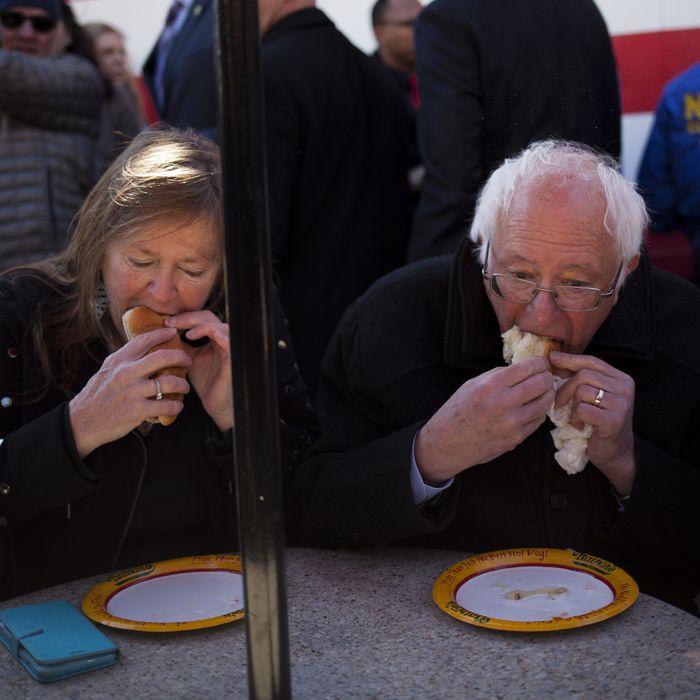 Sanders and his wife chow down.
Photo: 2016 Bloomberg Finance LP/2016 Bloomberg Finance LP
As you may have heard, former New York senator Hillary Clinton and former New Yorker Bernie Sanders spent the weekend in NYC, trying to convince people to vote for them in next week's Democratic primary. While in town, both of the candidates made sure to visit an iconic New York restaurant, but only one of them felt comfortable scarfing down a snack in front of the cameras. It shouldn't be too difficult to guess who it was.
At Nathan's Famous on Coney Island, Sanders gladly told reporters that he likes his hot dogs with mustard and sauerkraut before consuming one in the company of his wife and Michael Stipe:
Meanwhile, at Junior's Cheesecake in Fort Greene, Clinton merely admired the wares. "Cheesecake! Look at this fabulous cheesecake!" she said at one point, with look being the operative word.
"I learned early on not to eat in front of all of you," she told the press, likely alluding to the fact that a woman who allows herself to be photographed eating junk food always risks being deemed not attractive enough to do so.