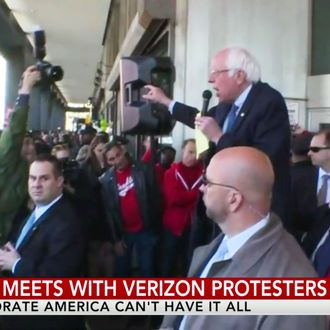 Bernie Sanders gave his shouting endorsement to a crowd of striking Verizon workers in Brooklyn on Wednesday. Early that morning, 40,000 Verizon employees across the East Coast launched the largest strike America has seen in four years, after ten months of negotiations with the company failed to produce an agreeable contract.
"I know how hard it is, what a difficult decision it is to go out on strike. I know you've thought a whole lot about it, and I know your families will pay a price," the democratic socialist told the picket line, in a speech that was broadcast live on cable news. "Today, you are standing up not just for justice for Verizon workers, you're standing up for millions of Americans who don't have a union."
The workers are represented by the Communications Workers of America and the International Brotherhood of Electrical Workers. The former has been officially feeling the Bern since December. According to the Huffington Post, the union's primary complaints with Verizon's most recent contract offer are that it lacked layoff protections for newer employees and allowed the company to force technicians to work far from home for up to two months at a time.
"Verizon is one of the largest, most profitable corporations in this country," a hoarse Sanders shouted to his appreciative audience. "They want to outsource decent-paying jobs. They want to give their CEO $20 million a year."
Verizon's CEO Lowell McAdam was less enthused by Sanders's speech. McAdam decried the Vermont senator's "uninformed" and "contemptible" views in a blog post on LinkedIn.
"Our objective in these negotiations is to preserve good jobs with competitive wages and excellent benefits while addressing the needs of our ever-changing business," McAdam wrote. "All of our contract proposals currently on the table include wage increases, generous 401(k) matches and continued pension benefits. Contrary to Sen. Sanders's contention, our proposals do not call for mass layoffs or shipping jobs overseas."
Hillary Clinton got in on the class warfare Wednesday afternoon, echoing Sanders's claim that Verizon "wants to outsource more and more jobs." The Democratic front-runner called on the company to "come back to the bargaining table with a fair offer for their workers." It's not every cycle that a leading presidential candidate joins a picket line. (In 2007, John Edwards, a faux-populist talking haircut, threw his support behind the Writers Guild strike.)
While Verizon can certainly hear Sanders now, they've actually heard him a few times before. As a Vermont congressman in 2003, Sanders addressed striking Verizon workers from the back of a pickup truck.