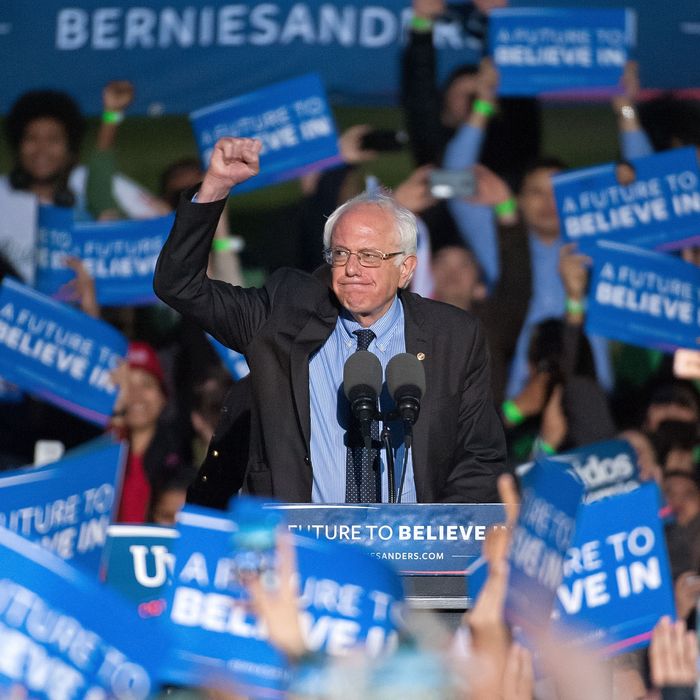 The Bronx is Berning.
Photo: D Dipasupil/2016 D Dipasupil
Bernie Sanders is on the cusp of winning New York by a landslide — if the Empire State revokes the voting rights of everyone over 30 between now and April 19.
On Thursday night, the democratic socialist drew 18,500 raucous supporters to St. Mary's Park in the South Bronx. Although the senator's campaign has often been portrayed as the whitest thing since sliced Wonder Bread, the crowd in Mott Haven was a rainbow coalition: Among the Caucasian Sandersistas were significant numbers of African-Americans, Latinos, Asian-Americans, and even a smattering of Hasidic Jews. BernieBros and BernieBroads were out in roughly equal numbers. The only demographic that went underrepresented was "people who were alive when Ronald Reagan was in office."
Celebrated filmmaker and iconic Brooklynite Spike Lee acknowledged this absence in his opening remarks.
"We have to talk to our parents, because the older generation — they on this Clinton thing," Lee said.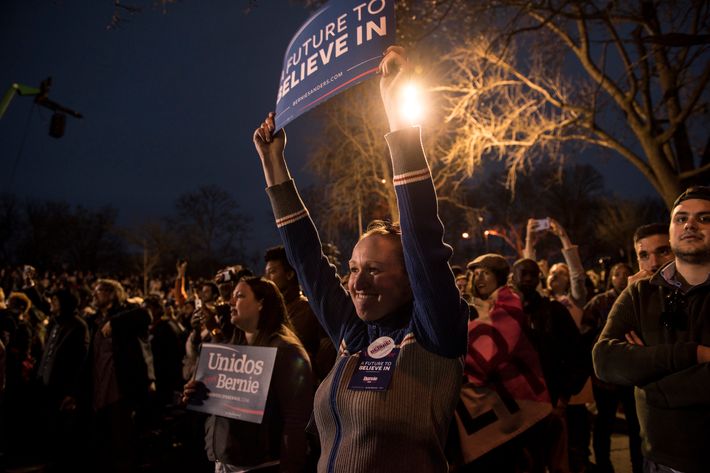 When Hillary Clinton kicked off her New York campaign at the Apollo on Wednesday, she attacked Sanders on several fronts, but never said his name. There was no such subtlety in the South Bronx. Rosario Dawson, prominent actress and Bernie surrogate, opened her speech at St. Mary's by decrying the Clinton campaign's "dishonest attacks" on Sanders's pro-choice bona fides.
"Shame on you, Hillary," Dawson said, to wild applause. "Oh, sorry, hold on. Let me 'watch my tone.'"
Earlier in the week, Clinton strategist Joel Benenson said that if Sanders wanted the former secretary of State to honor his request for a debate in Brooklyn, he should try softening his tone. After Clinton swept the five March 15 primaries — leaving Sanders with a (seemingly) insurmountable deficit in the delegate in the race — she tried to transition to Trump and November. While careful not to give the impression that they were chasing Sanders from the race, Clinton surrogates made noise about the party needing to unify against the pseudo-fascist Republican front-runner. But soft rhetoric and appeals to unity are no way to mount the greatest comeback in primary history, and Sanders is too ambitious and well-funded to concede anything yet. Over the past two weeks, the senator has posted landslide victories in a series of Western states, putting himself back into mathematical contention.
"As some of you know, Secretary Clinton has given a lot of speeches on Wall Street behind closed doors and she has received 250,000 bucks a speech," Sanders reminded his supporters Thursday night. "Now, I kinda think that if you are gonna get paid $250,000 for a speech, it must be a brilliant speech, it must be an earth-shattering speech written in Shakespearean prose."
Sanders then suggested that Clinton share this sterling oratory with the American people. (This is the "tone" Benenson was complaining about.)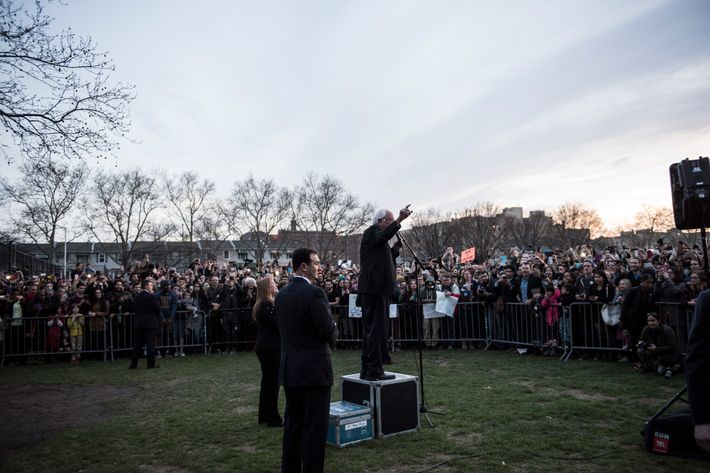 In Sanders's view, the greatest impediment to social democracy in the United States is the corrupting influence of corporate campaign donations. His refusal to accept such contributions is one of the central pillars of his platform. It makes perfect sense, then, that one of his main lines of attack against Clinton is her openness to plutocratic funding.
But it also makes sense that the Clinton campaign gets apoplectic about such critiques. Donald Trump won't be able to attack Clinton for not supporting single-payer health care. But the idea that she's afraid to tell the American people what she tells Wall Street behind closed doors? That's a ball any Republican can pick up and run with.
And the subtext of references to secret speeches and fossil-fuel funders hasn't been lost on Sanders's supporters. For some, Clinton isn't merely insufficiently left-wing, but fundamentally dishonest. Joseph Marz, a 21-year-old student at the New York Institute of Technology, said that he could never vote for Clinton because she cares more about her powerful friends than about "struggling black communities." That view wasn't limited to members of the crowd's millennial majority.
"I absolutely will not vote for Hillary. If I wanted a dishonest candidate, if I wanted someone who would lie and cheat, I'd be a Republican," said Jam Shakwi, a 47-year-old African-American man, who had considered himself a reluctant Clinton supporter in 2008. The election of the first black president has expanded Shakwi's view of the politically possible — and heightened his distrust of Clinton's appeals to electability and "realism."
Sanders pushed back against the "Bernie or Bust" mentality last weekend, reminding supporters that it is "absolutely imperative" to keep a Republican out of the Oval Office. Even Dawson, who delivered the night's sharpest barbs against Clinton, chided the crowd when they booed the front-runner's name. Later, after assuring the Sandersistas that they don't "have to vote for Hillary," she immediately stipulated, "This isn't the general election. This is the primary."
There's little evidence that the vast majority of Sanders's supporters won't back Clinton in a general election. Exit polls from the early primaries showed most Democratic voters were pleased with either of their options. But the fact that Sanders's support and funding are as strong as they've ever been, even as his chances of winning the primary have grown exceptionally slim, suggest a sizeable portion of liberals are averse to rallying behind the party's front-runner.
That may reflect attachment to Sanders's vision more than antipathy for Clinton's. The democratic socialist unveiled a compelling variation on his usual message Thursday night, connecting his concern for working-class families in the South Bronx to his own experience as the child of working-class immigrants in Brooklyn. And contrary to Clinton's claims, Sanders isn't a single-issue candidate whose appeal is restricted to white voters. At Thursday's rally, Sanders was introduced by Spanish-language rapper Residente, who spent the bulk of his remarks discussing the issues of Puerto Rican debt relief and self-determination. Recent polling has also shown Sanders performing well among young voters of all races, and boasting strong support among Asian-Americans of all ages.
None of this is likely to generate the unprecedented surge Sanders needs to threaten Clinton's nomination. While polls have tightened in New York, the state's former senator retains a double-digit advantage. But in New York, and across the country, Sanders has a firm grasp on the significant minority of (disproportionately young) progressive voters who want to chase the money-lenders from the Democratic temple. If Clinton wants those voters to come home in November, she may have to soften her tone.