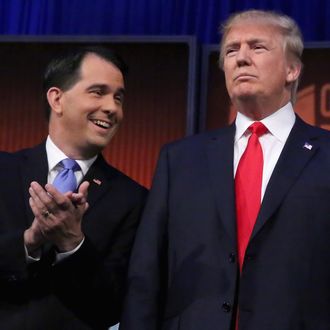 "You're joking, right Donald? Tell me you're joking."
Photo: Chip Somodevilla/2015 Getty Images
Last month, at a campaign stop in Janesville, Wisconsin, Donald Trump accused Governor Scott Walker of overstating the strength of the state's economy. "He's not doing a great job," Trump said of Walker. "But your governor has convinced you [Wisconsin] doesn't have problems." Earlier in the race, Trump also repeatedly hammered Walker for mismanaging the state's budget. But now it seems the GOP front-runner wants to make nice.
In an interview with USA Today, Trump said he would consider Walker, along with Marco Rubio and John Kasich, as potential vice-presidential candidates. "I like [Scott] Walker actually in a lot of ways," he said. "I hit him very hard, but I've always liked him. There are people I like, but I don't think they like me because I've hit them hard." 
In Walker's case, Trump was right: Walker does not like him. He didn't say so outright, but he did "laugh" when he heard Trump was considering him for VP.
"I literally just heard it in the car, and I laughed," he told Politico. "It's interesting to hear that after the things that were said about me a couple weeks ago. But I'm focused on being the governor of the state of Wisconsin. That's not even on my radar, and it certainly wouldn't be with … I guess I was shocked more than anything to hear that." 
As if that weren't clear enough, Walker also said he "can't even fathom" being on a ticket with Trump and called the mere possibility "breathtaking." So it looks like Trump will be going with one of his other choices, although it's hard to imagine a man he's dubbed "liddle" will be eager to serve as his second-in-command.