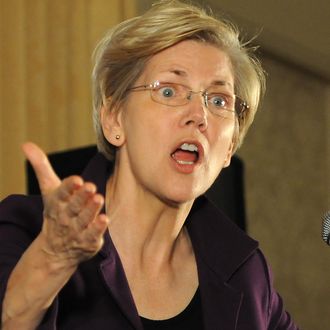 Warren's on the case
Photo: Steve Pope/Getty Images
Senators Elizabeth Warren and Sherrod Brown are pushing for the U.S. Treasury Department to investigate whether American individuals or companies conducted illegal business through the Panama-based law firm at the center of the "Panama Papers" scandal.
The two Democrats sent a letter to Treasury secretary Jack Lew on Thursday, urging him to look into "whether any U.S. or U.S.-linked company or person involved with Mossack Fonseca may have facilitated money laundering, terrorist financing, or other illegal activity, including with any U.S.-designated persons," Politico reports. "U.S. designated persons" refers to the Specially Designated Nationals list, a list of people and entities with which it's illegal for U.S. citizens or residents to do business.
The Justice Department is aware of the news reports, seeing as it is staffed by living people who presumably have internet access, but it hasn't said whether it intends to follow up on them.
Early reports based on the leak of more than 11 million documents from the world's fourth-largest offshore services company named world leaders, politicians, businesspeople, and celebrities from more than 200 countries, but no Americans. However, Süddeutsche Zeitung, the German newspaper that originally obtained the documents, has hinted that U.S. individuals will be named in forthcoming revelations.
U.K. prime minister David Cameron is also in hot water after the leak revealed that his father had run an offshore fund that avoided paying taxes in Britain. After hemming and hawing for three days, Cameron admitted that he and his wife had owned shares in the fund, which he sold just before entering office in 2010, according to The Guardian.
At least one MP from the opposition Labour Party has called for Cameron to resign over the emerging scandal.
Other world leaders named in the Panama Papers include Pakistani prime minister Nawaz Sharif, Ukrainian president Petro Poroshenko, King Salman of Saudi Arabia, and Russian president Vladimir Putin, who in characteristic style dismissed the exposé as an American plot to weaken Russia.