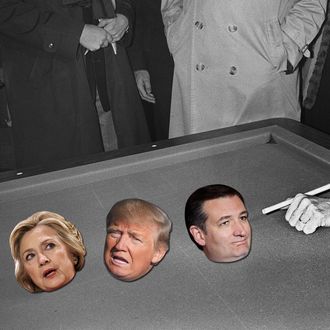 GOP elites would love to see both Trump and Cruz lose, which may require some help from Clinton.
Photo-Illustration: Daily Intelligencer; Photos: Pierre Guillaud/AFP/Getty Images (Pool); Getty Images (Candidates)
Last week I argued the true nightmare scenario for Republican elites was a Donald Trump general-election victory that would place an alien figure in the White House and give Democrats a heaven-sent opportunity for a big comeback sooner rather than later. Peter Beinart now persuasively argues that the best the GOP may be able to make of a bad situation is for Trump to lose to Cruz, who in turn will lose to Clinton, who in turn will lose to a revived mainstream GOP in 2020. 
Beinart's point of departure is that if Trump beats Cruz in Cleveland, and then predictably goes down the tubes in November, the Texan will be in a fine position to inherit the nomination in 2020 as the guy who will finally show what a "true conservative" can do. If Cruz wins in Cleveland, though, he'll discredit the longstanding belief of the right that offering a "choice not an echo" is the path to party victory. 
[A] Cruz defeat at the hands of Clinton this November leaves the GOP in a better position to rebuild than a Trump loss to Clinton does. By conventional standards, Trump isn't all that conservative. That means, if Trump loses this fall, conservative purists can again make the argument they made after John McCain and Mitt Romney lost: The GOP needs to nominate a true believer. And they'll have such a true believer waiting in the wings as the early front-runner in 2020: Ted Cruz. After all, losing the nomination to Trump would put Cruz in second place, and the GOP has a history of giving second-place finishers the nomination the next time around (Bob Dole, McCain, Romney). Plus, after building the best grassroots network of all the 2016 candidates, Cruz — who'll be barely 50 years old in four years — would enter 2020 with a big organizational edge. Thus, the GOP would remain at the mercy of its extreme base.

[A] Cruz loss in November would undercut the right's argument against choosing a more moderate nominee. To be sure, some grassroots conservatives would find a way to rationalize Cruz's defeat and preserve their belief that a right-wing ideologue can win. But more pragmatic conservatives would be confirmed in their belief that the next GOP nominee must reach out to Millennials, Latinos, and single women, and offer more to working-class Americans than just less taxation and regulation. A Cruz general-election defeat would strengthen the "Reformicons" who are trying to reform the GOP in some of the ways New Democrats reformed their party in the late 1980s and early 1990s.
I'd add to Beinart's argument, of course, that a Clinton victory in November would set up mainstream Republicans — under the congressional leadership of their not-so-secret favorite, Paul Ryan, for a very good midterm election in 2018, showing once against that "pragmatic" conservatism is the ticket to ride. Clinton, meanwhile, having already broken the glass ceiling by becoming the first woman to serve as president, would be ripe for defeat in 2020 as America will have tired of 12 straight years of Democrats in the White House. 
Would GOP elites trade this complex scenario for a Paul Ryan or a Jeb Bush or a Marco Rubio presidential nomination this year? In a heartbeat. But that's no longer on the table. Ted Cruz is a known quantity who could dispose of the more alarming and unpredictable Donald Trump in Cleveland and then discredit hard-core conservatives without unduly damaging the ticket down-ballot. The remote chance he could actually win is a contingency the GOP can deal with down the road.