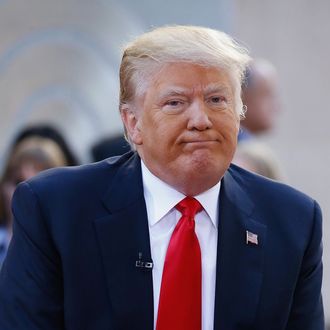 It takes a con to know a con.
Photo: John Lamparski/2016 John Lamparski
Donald Trump has been roundly criticizing the GOP Establishment for months, but last week, in an effort to mend bridges, Trump's new campaign manager tried to convince party elites that Trump's bluster was all an act. Paul Manafort didn't mean for these comments to be made public — he was addressing RNC members during a private briefing in Florida — but both the Washington Post and the Associated Press received recordings of his remarks.
Now both Manafort and Trump's son are walking back on the comments, claiming Manafort's reassurance that Trump is "projecting an image" was taken out of context.
Previously, Manafort promised RNC members that Trump would change his ways. "The part that he's been playing is evolving into the part that now you've been expecting," he said in Florida. "The image is going to change." One would think Trump's image would be closely linked to his policies — after all, the former creates the latter — but Manafort insisted this isn't the case.
"We were talking about evolving the campaign, not the candidate," Manafort said on "Fox News Sunday." He also said that promising RNC members Trump would tone it down was in reference to "when he's giving speeches on policy, settings that are not rally-oriented." Trump's policies, he stressed, were as conservative as ever.
Trump's oldest son, Donald J. Trump Jr., also chimed in, telling CNN his father's pivot is a "natural evolution." "Sometimes he has to talk about things in a certain way to draw the requisite attention that that topic actually needs," he said of Trump Sr.'s harsh campaign rhetoric. "So I think for him this is a natural evolution, getting focused on the general election where he's going to have to talk to the broader audience."
By doing outlandish things like hiring a speech writer, planning policy speeches, and renting some teleprompters, the Trump campaign has already hinted that the Donald will make a shift in upcoming weeks. But now it insists that shift will be totally "natural" and not at all an attempt to manipulate powerful Republicans into accepting him as a politician while he continues to pander to extremist crowds at enormous rallies — "Wonderful Donald" would never do a thing like that.