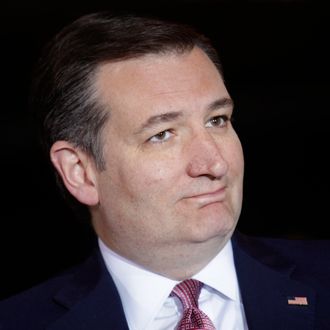 Our next mayor?
Photo: Darren Hauck/Getty Images
A vote for Ted Cruz is a vote against that criminal-appeasing, "illegal"-immigrant-loving, terrorist-coddling, crony-enriching socialist in Gracie Mansion. Or at least that's what the Texas senator wants New York's Republican primary voters to think.
"De Blasio's socialist policies are tearing this city apart," the grizzled voice-over in Cruz's new radio ad laments. "Murder's up nearly 10 percent. He treats cops like criminals and criminals like freedom fighters." The voice goes on to accuse de Blasio of "rolling out the red carpet to illegals" and "ending stop-and-frisk, even where terrorists are known to congregate." Finally, the ad alludes to the federal investigation targeting some of the mayor's campaign contributors, promising that President Cruz will throw the book at "corrupt politicians."
A wise man once said, "Senator Cruz is so mendacious in his remarks, one might fairly address him by the sobriquet 'Lyin' Ted.'" Okay, the unwise man who coined that nickname has never used the word sobriquet. But in this ad, Cruz lives up to his Donald-given name. The murder rate is not "up 10 percent" – in fact it was down 21 percent for the first quarter of 2016, as the city saw the fewest quarterly murders and shootings in its recorded history. Meanwhile, the NYPD is on pace to perform a mere 25,000 "stops," down from a peak of 700,000 in 2011.
De Blasio and Cruz have been the best of enemies for a few months now. When Cruz accused Trump of having "New York values" at a GOP debate in January, de Blasio co-authored an op-ed with New York Governor Andrew Cuomo decrying the Texas senator's "political cynicism." When Cruz called for police to "patrol and secure" Muslim neighborhoods in the wake of the Brussels bombings, de Blasio called his proposal "reprehensible." For its part, the Cruz campaign has accused de Blasio of siding with "looters and cop-killers against the police" and letting "the homeless run wild on city streets."
Donald Trump remains the overwhelming favorite to win next Tuesday's New York primary.