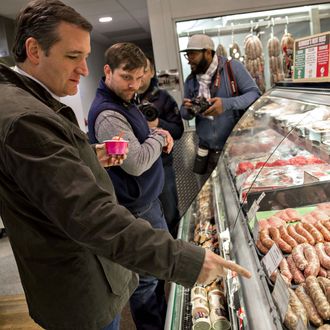 The freedom to self-stimulate is safe, for now.
Photo: Daniel Acker/Bloomberg via Getty Images
Ted Cruz has at last clarified his position on sex toy rights and insists he won't be coming for your dildos or nightstand-drawer fun zone if he's elected president. The issue, which became an issue this week after a Mother Jones piece dug up past statements from Cruz suggesting he was against dildos and masturbation, came up during Cruz's Friday interview with WABC radio host Curtis Sliwa, according to BuzzFeed. Sliwa asked Cruz if he would "ban the sale of sexual toys, dildos, or anything that sexually stimulates you," and the GOP presidential candidate replied that he would not:
Look, of course not, it's a ridiculous question, and of course not. What people do in their own private time with theirselves is their own business and it's none of government's business.