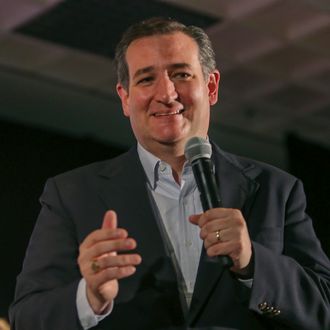 Ted Cruz, Convention Crusher
Photo: Bill Wechter/AFP/Getty Images
Ted Cruz has dominated another state's Republican convention, sweeping all 14 delegates up for grabs at the GOP convention in Wyoming on Saturday, according to the Casper Star Tribune. While the total number of delegates Cruz gained is small, the haul continues an established trend for the Texas senator's campaign in which they methodically pick up a small but steady flow of delegates on the strength of their ground operation. Also, the Washington Post notes that Cruz won additional small battles on Saturday at conventions in Georgia, South Carolina, and Virginia, where Cruz supporters won delegate slots in congressional districts that had voted for another candidate in those state's respective primaries, setting up more support should the nomination process at the Republican convention in Cleveland this summer reach a second ballot.  
Donald Trump, commenting on the contest on Saturday, used the situation in Wyoming to further protest what he sees as an overall rigged process that favors GOP insiders, though it's worth nothing, as Trump's critics have, that most of the rules that govern the awarding of delegates at state convention contests have been long established. Thus, Trump's campaign has also simply been outplayed by the Cruz campaign in handling those processes wherever they have occurred. Trump also opted not to actively campaign in Wyoming or Colorado, where the front-runner did similarly poorly at a state convention last week.
As an example of Trump's continuing delegate woes on Saturday, Cruz supporters won two of the three delegates slots to represent Georgia's 11th district at the convention in Cleveland, even though Trump won the district, albeit with only 35 percent of the vote. Trump will thus get two of the district's votes in the first round of balloting in Cleveland, but the Cruz supporters will surely support Cruz if the balloting goes to a second round. 
In Wyoming, Cruz operatives got 12 delegates selected out of 14 they had proposed, and the other two delegates that won pledged to support Cruz as well.