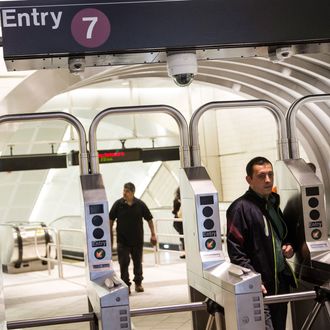 The new 7 train station at Hudson Yards.
Photo: Andrew Burton/Getty Images
The original plan for the 7 train extension to Hudson Yards included a stop at Tenth Avenue and 41st Street, but the $500 million station was scrapped six years ago because of cost concerns. Crain's reports, however, that the MTA is at least leaving the door open in case plans are ever revived, and will be telling potential developers of the site how much space they'd need to leave to accommodate a future station.
Crain's says it's viewed bid documents for the partially city-owned block on Tenth Avenue between 40th and 41st streets that includes the Covenant House youth shelter, and reports that the documents say "The MTA is in the process of preparing the conceptual design study of the 10th Avenue station for the No. 7 train extension." Basically, according to Crain's, the MTA's study will tell bidders how much space they'll need to leave (and where they'll need to leave it) for a potential future station.
It's not the first mention of the nixed station in recent months. The documents reviewed by Crain's are related to an RFP, or request for proposal, that was reported on back in January by Curbed. From a report about the city seeking proposals for the mixed-use site:
Another interesting tidbit: the RFP notes that the MTA is in the process of conducting a study on the feasibility of a Tenth Avenue station along the 7 train extension, with the goal being "arrive at a conceptual design of the station facilities and infrastructure on the Project Site"; accordingly, developers are asked to consider this when coming up with a proposal for the site. A new station at Tenth Avenue and 41st Street has been bandied about for a while, so that's also worth keeping an eye on.
Alas, a new station at Tenth Avenue is hardly imminent, especially now that the cost, according to Crain's, could be as high as $1 billion. An MTA spokesperson says that there are no plans right now for a station at Tenth Avenue, and that the study simply "looks at easement volumes so as not to preclude the construction of a new station in the future."