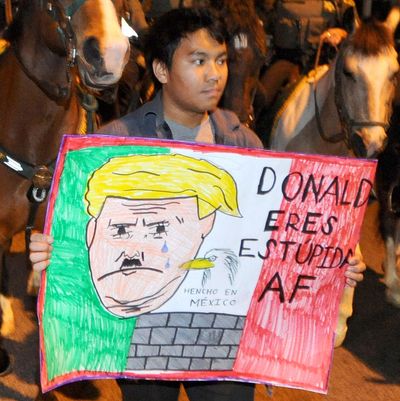 Police on horseback and on foot clear the anti-Trump demonstrators after a Republican presidential candidate Donald Trump rally at the Pacific Amphitheatre on Thursday, April 28, 2016, in Costa Mesa, California.
Photo: Michael Goulding/AP
Things got violent outside a Thursday night Donald Trump rally in Orange County, California, with anti-Trump demonstrators fighting with the Republican candidate's supporters, damaging police vehicles, and engaging in other not-great behavior. At least 20 people were arrested.
The Los Angeles Times reports that as Trump addressed a crowd in Costa Mesa's Pacific Amphitheatre, hundreds of young, mostly Latino protesters assembled outside of the venue to criticize his anti-immigration policies and racism.
While local law enforcement had prepared for the possibility of a large protest, officers were apparently overwhelmed as "taunts" between anti- and pro-Trump people gave way to demonstrators "[carrying] benches and [blocking] the entrance to the 55 Freeway along Newport Boulevard, with some tossing rocks at motorists near the on-ramp."
Elsewhere, a man jumped on top of a police cruiser, smashing some of its windows, while others attempted to flip another car over.
By 11 p.m., riot-gear-clad officers had mostly cleared the area. According to the Associated Press, "There were no major injuries and police did not use any force," though at least one male Trump supporter left with a bloodied face.