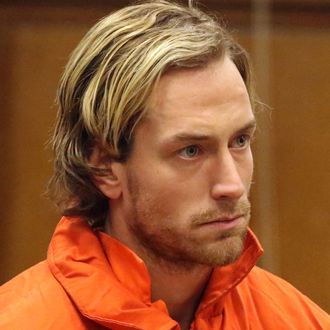 Thomas Gilbert Jr.
Photo: Jefferson Siegel/NY Daily News via Getty Images
Thomas Gilbert Jr., the Princeton grad who is accused of killing his hedge-fund dad, will get another psychiatric evaluation to determine if he's competent to stand trial. Gilbert's attorneys, making their case, told the judge that Gilbert believes he's being slowly poisoned by batteries on Rikers.
His attorneys also said that Gilbert had tried to get in touch with the head of Cablevision because, according to the New York Post, he doesn't have cable in his jail cell. Previously, court-appointed psychiatrists had said Gilbert suffered from paranoid delusions in the past, including one where he believed Saturday Night Live characters were making fun of him through the television.
This is the latest in a back-and-forth to figure out if he can stand trial in the alleged killing of his father. In September, those two court-appointed psychiatrists said Gilbert definitely was "unfit" for trial. But then in December, a judge sided with the prosecution and their expert, who testified that Gilbert was competent and had functioned normally in society before the crime. Gilbert was deemed "mentally fit." Now the judge will hear testimony from two new court psychiatrists on Gilbert's mental state and review the question of his competency at a hearing in June.
The New York Times notes that Gilbert made a rare court appearance Wednesday; he usually doesn't attend hearings in person, instead writing letters to the judge. (He's apparently a big fan of snail mail; he also reportedly wrote a letter to the Manhattan DA last year, touting his academic credentials.) Gilbert is accused of shooting and killing his dad, Thomas Gilbert Sr., in January 2015. The murder was allegedly provoked by Gilbert Jr.'s anger over his father's decision to reduce his allowance.