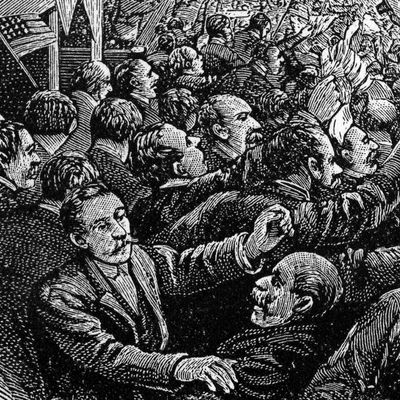 The front-runner in first-ballot votes is not doing as well in other battlegrounds.
Photo: Kean Collection
The lull in major Republican primaries prior to New York on April 19 has made it possible for media observers to focus on more subtle aspects of the nomination contest. But there's a lot of confusion in the swirling accounts of this or that candidate winning or losing "delegate fights" in this or that state — and the term is being used to cover a range of scenarios. To understand what's really going on, it is helpful to know that each of these fights falls into one of three categories.
1. First-Ballot Votes
First, and most important, there are battles over first-ballot votes at the convention: the binding commitments typically set by primary, caucus, or state convention votes as reflected in each state's delegate-allocation formula. For example, Donald Trump won statewide and in each congressional district in South Carolina, so no matter what happens in other stages of the process, and even if every member of the delegation is a #NeverTrump zealot, he's going to get all 50 Palmetto State votes on the first ballot. First-ballot voting battles continue, however, in the 16 states still ahead on the primary/caucus calendar. 
This past week, Ted Cruz won an unusual battle for first-ballot votes in Colorado where 34 delegates, who are technically uncommitted, were selected by congressional district and state conventions. According to every observer, all 34 are Cruz supporters, so it's as though the Texan won a winner-take-all primary.
2. Delegate Identities
Second, there are battles over delegate selection, which means the actual people going to Cleveland to cast the first-ballot votes determined by primaries, caucuses, and conventions, whether or not they actually support the candidate to which they are bound. FiveThirtyEight's Nate Silver has the most easily accessible summary of how the states choose delegates, with a majority utilizing state and local conventions and just over one quarter letting campaigns choose "slates" that voters elect. This matters if the nomination balloting extends beyond the "binding" period specified in each state (always at least one ballot, but sometimes two or even three, and just under 60 percent of delegates will be unbound after the first ballot), and it matters on all convention votes that don't directly involve the nomination, such as the convention rules and the party platform. 
This weekend in South Carolina and Iowa, Cruz forces won delegate-selection fights over delegates earlier allocated by the former's primary and the latter's caucuses to vote for Trump on the first ballot. In Indiana, there's heavy anecdotal evidence that an ongoing delegate-selection process is producing a strongly anti-Trump delegation, even though binding-delegate votes won't be allocated until the state's May 3 primary.
3. Convention Committee Slots
And third, there are battles over membership on key convention committees. Each state delegation elects two members to the Credentials, Rules, Platform, and Permanent Organization committees. Each could have an indirect impact on the nomination contest if the first-ballot votes don't give the nomination to anyone.
In Michigan this weekend, a very early state-delegation vote for national-convention committees made news when Kasich delegates broke an alliance with the Cruz campaign and shut out the Texan in votes on all eight available slots:
Trump delegates were elected to both slots on the Credentials Committee and one slot each on the Rules, Platform, and Permanent Organization committees. Ohio Gov. John Kasich's delegates took the remaining three slots.
This three-dimensional chess game will continue to play out all over the country in the weeks ahead. When you read about a "delegate fight," it's important to distinguish which type is actually occurring: one over first-ballot votes, over the actual identity of delegates, or over the delegates chosen to serve on key convention committees.