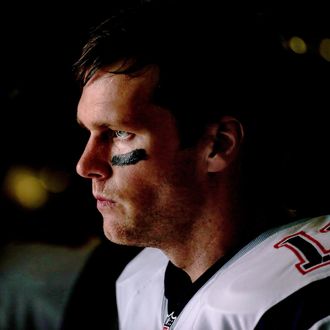 A federal appeals court sided with the NFL and reinstated Brady's suspension.
Photo: Chris Trotman/Getty Images
It's been more than 15 months since the infamous AFC Championship Game between the Patriots and the Indianapolis Colts — the one in which New England was accused of improperly deflating footballs to gain a competitive edge. In that time, Brady was suspended for four games by the NFL for his involvement in the matter, a judge overturned that suspension, and the league appealed that court decision. And now today, a federal appeals court sided with the league, overturning the lower judge and reinstating the suspension.
Back in September, federal judge Richard Berman vacated the suspension, saying it was, in part, "premised upon several significant legal deficiencies." He said at the time that the league didn't properly inform Brady about what he was accused of and what punishment he faced. Berman also said that the league denied Brady the opportunity to examine one of the two lead investigators, and also didn't let Brady's camp examine the evidence against him.
In its appeal, the NFL called Berman's decision "inexplicable," and said that it properly followed the collective bargaining agreement between the league and its players union. And in its 2–1 ruling today, a panel of the U.S. Circuit Court of Appeals for the Second Circuit agreed. "We hold that the commissioner properly exercised this broad discretion under the collective bargaining agreement and that his procedural rulings were properly grounded in that agreement and did not deprive Brady of fundamental fairness," wrote judges Barrington Daniels Parker Jr. and Denny Chin in their opinion.
The decision may finally end the legal debate over the league's punishment of the Patriots quarterback, though the NFLPA and Brady do have some options remaining. They can appeal the decision to the full Second Circuit, or try taking their appeal to the U.S. Supreme Court, though the Times reports that legal experts say both options would be long shots. The NFL, meanwhile, can stick to its four-game suspension, or attempt to reach a settlement to avoid further appeals and end the matter once and for all.
If Brady does indeed miss the first four games of the regular season, he'd be sitting out games against Arizona, Miami, Houston, and Buffalo. He'd be able to make his debut in Week 5, against the Browns.