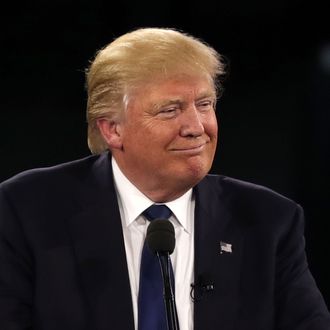 WASHINGTON, DC - MARCH 21: Republican presidential candidate Donald Trump addresses the annual policy conference of the American Israel Public Affairs Committee (AIPAC) March 21, 2016 in Washington, DC. Presidential candidates from both parties gathered in Washington to pitch their views on Israel. (Photo by Alex Wong/Getty Images)
Photo: Alex Wong/Getty Images
When Politico's Alex Isenstadt reported this news, you could almost hear the creak of bones and sinews as heads nodded all over Washington:
>
Yep, it made sense. As part of the mogul's efforts to make himself less of a pariah going into the stretch run of the primary season, it figured he'd show some respect to the anti-choicers, who were deeply annoyed by Trump's stepping on their message with a giant clown shoe by suggesting women who had abortions ought to be punished once the clock was turned back to 1972. All he really needed to do was acknowledge that he screwed up, restate his hard-line anti-choice position, and then, for dessert, throw in some assurances that he wouldn't even begin to consider anyone for a lifetime judicial nomination unless they make it clear through the usual mime routine that Roe v. Wade will soon be consigned to the dustbin of history. Reiteration of earlier praise for 11th-Circuit Judge William Pryor, an outspoken opponent of Roe, and for 7th-Circuit Judge Diane Sykes, a "religious liberty" ultra, would have probably been enough.
But instead, Trump was a no-show, per this report from Betsy Woodruff:
Donald Trump just blew off pro-life leaders exactly one week after he angered the movement by calling for "punishment" for abortion.

Trump was reportedly expected to address Priests for Life and the 115 Forum conference during a conference call on Wednesday. But he bailed. Leslie Palma, a spokesperson for Priests for Life, told The Daily Beast that Trump did not dial-in.
A conservative operative with knowledge of the call told The Daily Beast that pro-life leaders involved were disappointed Trump decided not to speak with them.
Considering they are part of a movement that has always regarded itself as taken for granted by GOP pols, I bet they were disappointed, and ready to ratchet up their demands on Trump. Before the week is out, I betcha he will crawl.