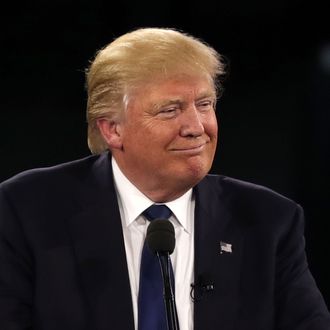 "America is sick of" the haters.
Photo: Alex Wong/Getty Images
Donald Trump's tumultuous week began last Wednesday, when his comments on abortion drew ire from all sides. It continued Saturday, when the Trump campaign announced it would reduce the role of embattled campaign manager Corey Lewandowski, and it culminated with a shocking admission from Trump on Sunday: He does, in fact, make mistakes. Despite the fact that many would see this as a rough patch, the Trump campaign is determined not to let the haters and losers get it down.
In an internal memo obtained by the Washington Post, senior Trump campaign adviser Barry Bennett details how, despite the Establishment media's attempt to cast a shadow on Trump's campaign, this week was in fact a great victory. As he puts it, "Donald Trump 1, Washington Establishment/Media 0."
The "internal campaign memorandum," titled "Digging through the Bull Shit [sic]" and addressed to "Corey and Team," rips the week's media coverage as "yet another pathetic display by the so-called experts who line their pockets at the expense of our candidates and causes." It goes on to illustrate exactly how, according to the "only true tracking poll publicly available," Trump has gained on his rivals throughout the week.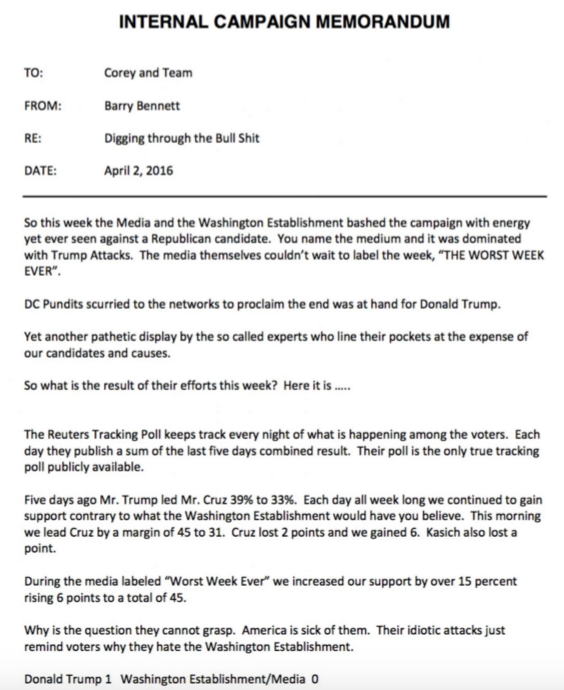 "During the week they labeled the 'Worst Week Ever,' we increased our support by over 15 percent," Bennett writes. "Why is the question they cannot grasp. America is sick of them. Their idiotic attacks just remind voters why they hate the Washington Establishment."
When reached by phone, Bennett elaborated: Both the media and the core Republican Party "is the Establishment. The press is printing the narrative that the Republican Establishment is setting. What's necessary — what I'm saying here — is that we can't let that influence how we see ourselves. My point is that people should be pumped that the Establishment is spinning." 
Trump hopes to end his sour streak in Wisconsin, where both he and Cruz have been campaigning hard in preparation for Tuesday's primary. Trump told the New York Times that Wisconsin "feels very much like New Hampshire to me." He went on, "Trump wasn't going to win New Hampshire, and then all of a sudden, we win in a landslide. Because I could I feel it with the people. I can feel it with the people in Wisconsin."