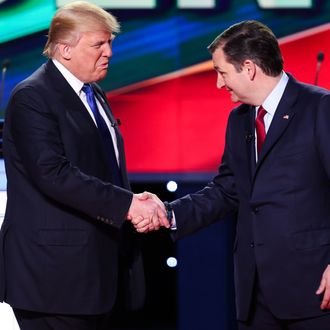 For the time being Trump and Cruz are frenemies on convention rules that kill other candidacies.
Photo: Michael Ciaglo-Pool/Getty Images
One odd aspect of the GOP presidential nominating contests is that even as Donald Trump and Ted Cruz savage each other publicly, and privately battle for delegates (especially delegates bound to Trump on the first ballot but not bound to support him on procedural votes), they are maintaining a tactical alliance aimed at killing the Republican Establishment's dreams of a truly "open" convention and an ultimate nominee not named "Donald" or "Ted."
As I noted last week, the instrument whereby Trump and Cruz can impose a duopoly on Cleveland is an existing (if "temporary") convention rule developed in 2012 that rules out candidacies not backed by a majority of eight delegations. This Rule 40(b) would also obviously exclude "dark horse" candidates who did not run in the primaries. 
So far, the Trump and Cruz camps are sticking to their guns on 40(b), as NBC's Ari Melber reports:
While Trump and Cruz are locked in a bitter battle, aides to both men tell MSNBC it is in their mutual interest to keep Kasich off the ballot. The convention rules control who is on that ballot — and thus eligible to win the nomination.

"I expect the Rules Committee to require a level of support that would leave only two candidates on the ballot at the convention," a senior Cruz Campaign aide told MSNBC.

That committee, which writes the rules governing an open convention, is made up of 112 Republican delegates from around the country. Operatives for Cruz and Trump say they will have major sway over what the committee does.

"The Cruz people and Trump people are fighting hard to make sure their hard-core delegates get on the committee," said Barry Bennett, a Trump adviser.

Bennett said a voting bloc favoring the two leading candidates will run the committee.

"We'll be successful getting at least a majority — or supermajority," he projected, counting Trump and Cruz delegates together.
The growing realization that the Republican Establishment doesn't automatically control the convention's rules is beginning to penetrate the consciousness of Beltway pundits. The Washington Post's Chris Cillizza, for example, is referring to those who assume the convention will find some way to push aside Trump and Cruz and nominate a more electable candidate as "magical realists" who haven't come to grips with their rejection by the party's rank and file. 
Still, it's a long way yet to Cleveland, and there are circumstances that could undermine the Trump/Cruz rules alliance. If either of the candidates (presumably Trump) nails down a majority of bound first-ballot delegates, then the rules become moot unless anti-Trump forces take the very perilous route of trying to unbind such delegates as are not required to vote for a primary- or caucus winner by state law. It would require a huge Cruz flip-flop to go along with that strategy, and casting his lot with the #NeverTrump crowd makes little sense for Cruz since a convention "opened" by such brute force would probably discard the Texan as well as the mogul. 
But what if, as the convention approaches, one of the two front-running candidates decides that rolling the dice on a multi-ballot, multi-candidate convention makes more sense? You could envision a scenario where Team Cruz knows that Trump's delegate count will crumble the moment the first ballot ends and needs to undermine his support among unbound delegates by holding out the prospect of a third candidate. And there could be enough disloyal Trump delegates elected between now and the convention (only 14 states have completed their delegate selection processes to date) that the duopoly's grip on the rules committee and the convention itself could slip a bit. And if the convention does deadlock in the first ballot or two, then the convention could modify or discard Rule 40(b) before later ballots in order to find a way out via a dark horse. 
All in all, both Trump and Cruz are more likely than not to pursue a first-ballot-or-bust strategy, and strictly maintaining Rule 40(b) is the easiest way to force an early resolution and keep Establishment dreams at bay. For their own different reasons, Trump and Cruz have both concluded that John Kasich is a threat to their ability to win the nomination in the primaries, and neither expects a favorable outcome in a truly open convention. So making unhappy mainstream Republicans pick their poison remains the conjoint strategy of these two disturbing and controversial candidates.