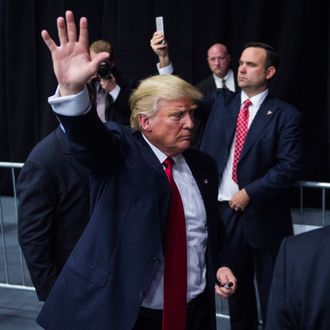 Rocky Mountain low.
Photo: Jabin Botsford/The Washington Post
Donald Trump knows how to win. Starting with nothing but a million dollars and all of his father's connections, Trump turned his company into one of the great winners of the business world. If elected president, his expert management would turn America into the Golden State Warriors of countries, a nation that wins so much, its people "may get bored with winning." This is the essence of Trump's pitch to the American people (or, at least, the essence of his less xenophobic pitch).
But Thursday night in Colorado, Trump lost. For the third consecutive time, Ted Cruz swept a congressional-district convention in the Rocky Mountain State, collecting another three of the state's delegates in the process. And at least part of the reason for Cruz's success is that, when it comes to the delegate-selection process, Trump doesn't really know how to win. MSNBC's Benjy Sarlin offers this dispatch from Arvada:
Addressing the audience, Trump's new Colorado state director Patrick Davis told supporters to vote for the three pro-Trump delegate candidates on a glossy brochure the campaign distributed.

"Look for them on the back when you vote Donald Trump!" Davis said. "He's going to make America great again!"

There was only one problem: Two of the three names weren't listed on the ballot.
Trump's ignorance of the delegate process first bit the GOP front-runner last month, when Ted Cruz managed to scoop up more delegates from Louisiana than Trump, even though he received fewer votes than the mogul in the state's primary. Initially, Trump reacted to Cruz's coup the same way he does to virtually all unpleasant developments: He threatened a lawsuit. But then Trump met with RNC chairman Reince Priebus and, nearly a year into his candidacy, learned the importance of campaigning for unbound delegates. 
In Colorado, delegates are chosen at either district conventions or the state convention this weekend. While the Mountain West was never supposed to be a Trump stronghold, the campaign's lack of preparation for Colorado's convention puts it at risk of being completely shut out in the state. Considering the narrow path Trump must travel to attain 1,237 pledged delegates — the number required for clinching the nomination ahead of the convention — such sorry outcomes could prove significant. 
However, the Trump campaign claims that its inept organizing out West is a deliberate choice. In recent days, the mogul has revamped his team, hiring veteran GOP operative Paul Manafort to lead the campaign's delegate-targeting efforts. Manafort has charted a course to 1,237 that involves maximizing Trump's gains in the northeastern states where he remains a heavy favorite. According to CNN, Trump has canceled a campaign event in California and his appearance at Colorado's state convention — where Cruz will be in attendance — so as to devote his full energies to rallying support ahead of New York's April 19 primary.
Still, if the Trump campaign is going to have paid staffers on the ground in Colorado, they probably shouldn't be rallying support for delegate candidates who aren't on the ballot. According to Sarlin, there were three Trump-friendly delegates on the ballot Thursday night, just not the ones Patrick Davis named. One of these delegate candidates, Cully Marshall, had even written a poem in the Donald's honor. Per Sarlin:
"He's our only hope against Hillary, that lying crooked witch," Marshall said. "He's going to build that wall and make Hillary El Chapo's personal…" He trailed off.
If Trump loses the primary at the convention, his failure to send such poets to Cleveland will be one reason why.