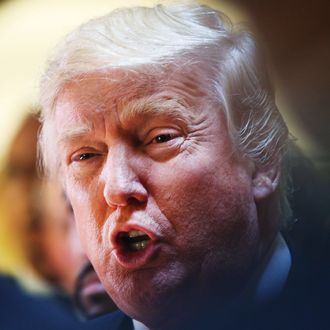 When in doubt, claim you've already won and are being robbed!
Photo: Spencer Platt/Getty Images
It's not surprising that Donald Trump's campaign is coming out of its big win in New York with a renewed sense of aggressiveness. The drought of good news for Trump had grown long, and he's now drinking deeply from the trophy cup in the winner's circle, which he thinks of as his permanent address.
But there may be more than swagger to the triumphant noises emanating from Team Trump right now. Depending on what happens between now and the final primaries on June 7, Trump is either going to very narrowly win the 1,237 pledged delegates needed for a first-ballot victory, or fall short by some relatively small margin that could theoretically be filled by uncommitted delegates (of which there are likely to be as many as 200). Adapting the sports term for a championship team ineluctably moving toward its reward, everyone's beginning to talk about some mythical level of support that constitutes Trump's "magic number," the point of no return where no one dares deny him the nomination. It is very important to his campaign that this number be perceived as low and as near as possible in order to shut down his rivals even if they are succeeding in locking down second- and third-ballot commitments. 
And if there's not some "magic number" on which everyone agrees, why not claim victory as early as you can and then defy the hated Republican Establishment to prove otherwise, at the risk of alienating primary voters? That's a strategy that is already perceptible in the Trump campaign's current communications, as explained by the Washington Post's Philip Rucker, who gained access to internal talking points:
Donald Trump's campaign advisers believe the billionaire mogul is emerging as the "prohibitive favorite" in the Republican presidential race and project that he will accumulate more than 1,400 delegates to secure the nomination on the first round of balloting at the party's Cleveland convention, according to an internal campaign memorandum.

The projections come in a memo distributed to Trump surrogates late Tuesday night containing talking points for use in media interviews this week. The memo, obtained by The Washington Post, describes Trump's commanding win in the New York primary as "YUGE" and encourages his supporters to speak out about what Trump has described as a "rigged" process of selecting delegates for the Republican National Convention in July.
In truth, the "rigged" process Trump's been attacking mostly involves second- or third-ballot commitments and perhaps procedural votes. With the exception of the handful of states that decided long before this cycle formally began to keep their delegates uncommitted or name them in a state convention, the delegate-selection process has no bearing on whether Trump gets the nomination before his delegates are "unbound" (barring some really audacious rule change). So the attacks the Trump campaign is encouraging are all about intimidating his opponents and stoking the fires of outrage among his supporters in a way that could discourage opponents from going to the mats to stop him. 
This game is being played at a pretty sophisticated level, as attested by this reference to the RNC's spring meeting this week, where rumors of anti-Trump rules skullduggery are swirling:
As Manafort and another new hire, national political director Rick Wiley, meet privately with Republican National Committee members in Florida this week, the memo instructs campaign surrogates to publicly lash out at the RNC.

"The RNC has a lot to answer for as do those who are part of the donor class and the party establishment," the [Trump campaign] memo reads. "This movement scares the hell out of them and the people scare them, so they will do whatever they can to keep power."
It's kind of like the bad guys in a Western letting their goons shoot up the town before they confront the sheriff with their demands. The reality is that for all the paranoia of the Trump rank and file, the spring meeting of the RNC is not authorized to change any rules (if that's going to happen it will be at the first meeting of the convention's rules committee just before Cleveland), and all of the signs indicate that Reince Priebus wants to keep the anti-Trump scheming to a minimum, at least when reporters are around. But having "called them out," the Trump operatives can now claim they prevented terrible things from happening, and are fully justified in fearing an Establishment coup. 
You can see how over time these tactics can gradually move the goalposts so that the mathematically minimum level of pledged delegates needed to win the nomination if all of the uncommitted delegates joined them could become the new "magic number." Indeed, I strongly suspect Trump and his people are already trying to figure out the earliest possible date they can declare victory, moving from "prohibitive favorite" to "putative nominee" and daring the powers that be to challenge it without triggering a backlash not just from Trump supporters but from others fearing a coup against the primary results. Claiming an early victory would have the added advantage of exposing Ted Cruz's ambivalent position as someone working with the party Establishment to stop Trump while trying not to leave his own fate in their hands.
I claim no inside knowledge of the Donald's plans, but I would not be surprised if the Champagne is placed on ice shortly before next Tuesday's northeastern primaries report their results.