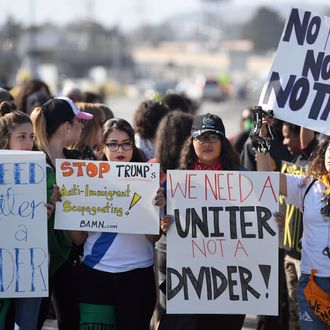 Protesters hold up signs during a rally against US Republican presidential candidate Donald Trump in Burlingame, California on April 29, 2016.
Photo: Josh Edelson/AFP/Getty Images
Part Two of the anti-Trump protests unfolded in California on Friday afternoon, this time in Burlingame, a city south of San Francisco. Hundreds of protesters swarmed the area outside the hotel where Donald Trump was set to give a speech to the California Republican convention. At least two people have been arrested.
Protesters blockaded the road so Trump had to abandon his motorcade and walk through the back entrance to the hotel — delaying, but not fully deterring, the GOP front-runner from reaching the stage. Trump, once inside the hotel, likened it to "crossing a border."
Protesters and police clashed after demonstrators rushed the hotel, trampling the police barricades. Some on the front lines apparently flung eggs at the cops. Police in riot gear pushed back the waves of people and managed to block them from the hotel entrance. 
At least a handful of protesters managed to get past the barricade and unfurl banners inside the hotel, reports The Guardian. One, draped down the side of the hotel, read "Stop Hate." 
Protesters carried some more explicit signs, too.
The anti-Trump contingent — mostly protesting his anti-immigration policies, reports CNN — also wrangled with Trump supporters outside the convention, and reportedly with guests attending the event.