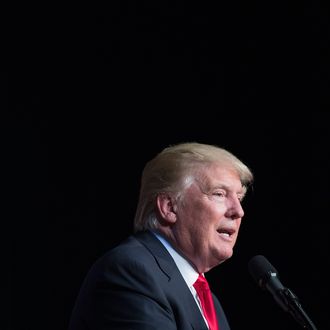 Photo: Scott Olson/Getty Images
Donald Trump is staying in New York state though the weekend to campaign, and on Saturday, he took a small detour from the trail to visit the 9/11 Memorial with his wife Melania. Trump, who frequently cites 9/11 in his ongoing spat with Ted Cruz about "New York values," toured the site and the museum, inviting along a pool of reporters whom he then forced to wait in a van outside. He didn't answer any questions after his 30-minute tour, either. 
According to the Daily News, Trump, a man from New York City, has never visited the 9/11 Memorial since it opened in 2011. Saturday's museum visitors, however, were able to (sometimes awkwardly) document this moment. 
Democratic candidate Bernie Sanders also apparently did not want to miss out on some of New York's must-sees. The Vermont senator and his wife managed to get tickets to Hamilton Friday night, which besides being the most popular Broadway show in town, has some themes that sound right up Bernie's alley. Sanders's campaign had been trying to get him to the musical for months, and the candidate coughed up $167 per ticket for house seats, which according to the New York Times, is the area "generally reserved for people like dignitaries and relatives of cast members." 
Sanders hosts three events in the city Saturday: one in Washington Heights, another at Bronx Community College in University Heights, and a third at LaGuardia Community College in Queens. He also apparently just wanted to have lunch at a Queens diner in peace.
Hillary Clinton, who hosted an event in Brooklyn, instead opted for a little cheesecake from Junior's.