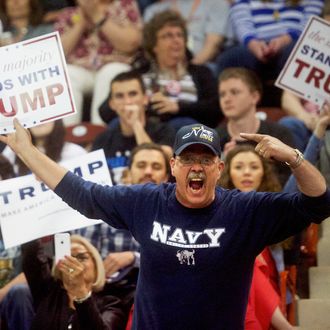 Vote Trump or Die.
Photo: Mark Makela/Getty Images
Donald Trump is taking his act mainstream. Since his landslide victory in New York, the GOP front-runner has gone from spurring outrage at his party's crooked Establishment to assuring that same Establishment he can play by its rules. On Thursday, Trump's chief strategist Paul Manafort told the RNC, "The part that he's been playing is evolving into the part that now you've been expecting … The image is going to change."
To help with the rebrand, Trump has hired his first speechwriter and promised to start using teleprompters to keep himself on message. The mogul told NBC's Today on Thursday, "It's easier for me to be presidential than for me to be doing what I've been doing … I will be so presidential, you will be so bored. You will say, 'Can't he have a little more energy?'" He gave the morning show's audience a taste of the kinder, gentler Donald when he came out against North Carolina's transphobic bathroom bill.
Before his triumph in the Empire State, Trump tried to preempt a coup in Cleveland by subtly threatening unfriendly delegates. Last month on CNN, Trump predicted (or promised) riots if he were rejected at a convention. His longtime ally Roger Stone was more direct, pledging to release the hotel-room number of any delegate who defies the Donald's will. After Trump was shut out at Colorado's state convention, he spent a full week working his supporters into a frenzy over the "rigged system" that was trying to disenfranchise them. Now that Trump has taken upwards of 89 delegates from New York — and is expected to notch a string of landslide victories in upcoming northeastern states — the mogul has decided to take a "good cop" approach: Instead of scaring the Establishment into acquiescence, he's trying to quell their fears of his unelectability. Once the unpredictable madman, he now plays the obedient puppet. The onetime George Wallace impersonator is getting in touch with his inner Rockefeller Republican.
Not all of his supporters got the memo.
Following Trump's comments about the Rocky Mountain State's "rigged" nominating contest, the chairman of the Colorado GOP, Steve House, has received more than 4,000 threatening phone calls from Trump superfans, according to Politico. One of these callers suggested that he hide his family members and "pray you make it to Cleveland." Another reportedly asked the party official to put a gun down his own throat.
"He said, 'I'll call back in two minutes and if you're still there, I'll come over and help you,'" House told Politico.
At the RNC's quarterly meetings in Florida, party officials traded stories of Trump-inspired death threats. "A Trump supporter recently got in my face and threatened 'bloodshed' at the national convention and said he would 'meet me at the barricades' if Trump isn't the nominee," one party chair, who wished to remain anonymous, told Politico. Several other GOP delegates reported similar threats.
These stories highlight a central challenge to Trump's rebranding: If you spend ten months campaigning as a pseudo-fascist demagogue, many of your supporters are gonna be actual fascists.
Trump can stop encouraging his supporters to attack dissenters in their midst. But he can't stop them from acting on the violent ideas that he already placed in their heads. You can take the paranoid rage out of Trump's messaging, but you can't take the enraged paranoiacs out of his coalition.