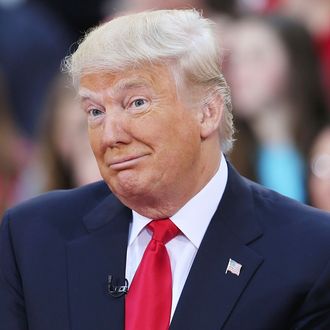 Who you gonna trust? Me or my lying eyes?
Photo: Spencer Platt/Getty Images
The Republican Establishment has spent millions of dollars trying to convince GOP voters that Donald Trump is a con man. Now, with the nomination nearly secured, Trump is trying to convince those party pooh-bahs they were right.
The front-runner's top aides met with members of the Republican National Committee on Thursday and assured them that Trump doesn't mean most of the things he says.
"When he's out on the stage, when he's talking about the kinds of things he's talking about on the stump, he's projecting an image that's for that purpose," Trump's chief strategist Paul Manafort told the RNC in Hollywood, Florida, according to the Associated Press. "You'll start to see more depth of the person, the real person. You'll see a real different guy."
"The part that he's been playing is evolving into the part that now you've been expecting," Manafort added. "The image is going to change."
Right now, Trump's image is akin to a photograph of roadkill — appealing enough for a niche audience, but rather off-putting to everyone else. Polls consistently show that more than 60 percent of Americans view the Donald unfavorably; among women, the figure is closer to 70 percent. Those numbers have inspired the RNC to create a separate fund-raising entity for the fall's Senate races — a move that allows donors to give without worrying that their hard-earned capital gains will go toward propping up a doomed presidential candidate.
But following his resounding victory in New York, Trump announced a series of campaign changes, all aimed at mainstreaming his unconventional candidacy. For most of the primary race, Trump's stump speeches have been improvised rants. The sheer quantity of gaffes Trump has produced can be attributed, in part, to this method: Put any 69-year-old white man in front of a microphone, instruct him to speak extemporaneously for 90 minutes, every day, often on little sleep, and you'll probably hear a few wild things. But now, ten months into his campaign, Trump has actually hired a speechwriter. He also plans to start using teleprompters, and to give a foreign-policy address at the Center for the National Interest.
On Thursday, Trump's team asked the RNC to measure their candidate's electability by his improbable success in the primary, not by those unreliable general-election polls. The Donald is a performer who knows his audience. When the audience changes, so will he. And when he does, his unique charisma and policy platform will expand the Republican map, forcing Democrats to defend places like New Jersey and Illinois.
"You're going to see this map expand," Trump's political director, Rick Wiley, told the party leaders, according to the Washington Post. "I think by the time this is over, you're going to see a path to 270 [electoral votes] that looks more like George H.W. Bush's map than George W. Bush's map."
Manafort argued that Trump's negatives would prove to be less firm than those of his likely Democratic opponent. If current polling holds up, the general election will be a contest between the two least popular non-incumbent presidential candidates in recorded history. But while Hillary Clinton's negatives come from "character issues," the Donald's derive merely from problems of "personality," Team Trump contends.
"Fixing personality negatives is a lot easier than fixing character negatives," Manafort told the RNC. "You can't change somebody's character, but you can change the way a person presents himself."
Trump doesn't have a problematic character; he just likes adopting false personalities to manipulate people into doing his will. Now, please, help him raise money.