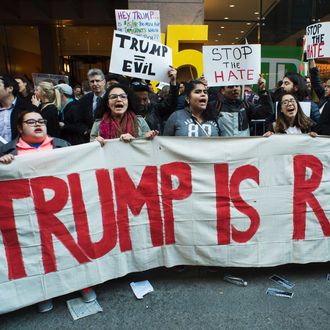 As Republican nominee, Donald Trump could make Mitt Romney — or even Ted Cruz — look like Mr. Inclusino among Latinos.
Photo: Don Emmert/AFP/Getty Images
There's never been much doubt that nominating Donald Trump for president would signify that Republicans value white voters who resent Latinos more than Latinos as a voting target. In other words, it's a gamble on a backlash. And part of the calculation is that Mitt Romney came pretty close to beating Barack Obama in 2012 with an abysmal showing among Latinos, who are pretty thin on the ground in a lot of battleground states. So why not mobilize "missing white voters" — marginal voters who will definitely vote Republican if they show up — instead of trying to persuade distant Latinos? How much worse could it get among Latinos anyway?
Maybe quite a bit worse, it appears. A new and very credible-looking Latino Decisions survey of 2,200 Latino registered voters shows Donald Trump sinking to one of those approval/disapproval ratios that when you take errors into account approaches unanimity: 9-87. In trial heats against Democrats, Trump loses to Clinton among Latinos 11-76, and to Sanders 11-78. Trump may be benefiting from the kind of honky backlash that reminds people of the salad days of George Wallace, but he's stimulating a minority frontlash that's potentially a lot more powerful and long-lasting.
The good news for Republicans in this survey is that even though Ted Cruz's attitudes on immigration policy are not that different from Trump's — and while his overall hostility to government is even more extreme than Trump's — he's doing significantly better among Latinos than Trump and somewhat better than Romney '12. He's trailing Clinton a mere 29-64 and Sanders 26-65. It's not clear whether his relatively positive showing is attributable to his own Latino identity, lack of knowledge of his positions on issues of concern to Latinos, or weak support for Democrats. I am quite sure the second possibility would be abundantly addressed by Democrats should Cruz get the GOP nomination. If his neolithic views have been hiding in the shadow of Trump's paleolithic views, a little light on the subject might have quite the impact.