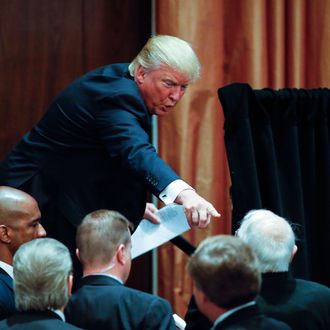 VOTE.
Photo: Eduardo Munoz Alvarez/Getty Images
Donald Trump is on the cusp of a towering victory in New York's Republican primary. The current average of all Empire State polls puts the Queens native well above 50 percent and more than 30 points ahead of his closest competitor, Ohio governor John Kasich. Those numbers have prompted speculation that Trump could claim all 95 delegates in his home state, allowing him to make up some of the ground he lost via his poor showing in Wisconsin and face-plant in Colorado.
But a new district-level poll from Politico suggests that Trump's rivals could net more than two dozen delegates next Tuesday. Here's the fly in Trump's ointment: Each of New York's 27 congressional districts has three delegates to award. If the Donald clears 50 percent in a district, he lays claim to all three — but if he comes in anywhere below that threshold, even at 49 percent, he collects two delegates, and the runner-up takes one.
In Politico's poll, Trump runs up yuge margins in Long Island, Brooklyn, Queens, and Staten Island, but he's stuck around 40 percent in many districts upstate. All told, the survey shows the front-runner well above 50 percent in 5 districts, within the margin of error for 50 in 14 others, and firmly below in 8. The remaining districts are unpredictable wild cards — deep-blue bastions in New York City where there are barely enough Republicans to field a softball team.
No matter what, Trump will leave New York with a larger lead than he came came in with. But if the toss-up districts in Politico's poll turn against him, he'll fall further off pace for reaching a majority ahead of Cleveland. Which may be why he appears to be increasingly focused on scaring the GOP Establishment into handing him the majority once he gets there.