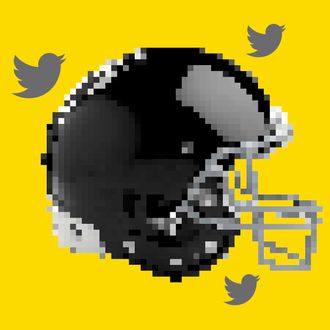 The NFL and Twitter announced earlier this morning that the social network had acquired the global rights to stream ten games of Thursday Night Football. According to Re/code, the company paid the NFL less than $10 million for the rights, "while rival bids had been higher than $15 million." That makes this practically an act of charity.
Bloomberg adds that Twitter also beat out other telecom and tech heavyweights, including Verizon, Yahoo, Amazon, and Facebook. Yahoo had streamed one game online last year as a sort of trial run for the NFL, and spent $19 million for the privilege to do so.
In fact, a lot of companies own rights to broadcast games in some way or another. CBS and NBC paid $450 million for the Thursday Night rights. From Re/code:
One big reason for the disparity is that CBS and NBC have their own digital rights, and they will own most of the digital ad inventory in their games, people familiar with the deal say. So Twitter will be rebroadcasting the CBS and NBC feeds of the games, and will have the rights to sell a small portion of the ads associated with each game.

Further complicating the picture — and generating more revenue for the NFL — is the fact that Verizon already owns the mobile rights to NFL games, and that deal isn't going away.
So … I guess, congrats to the NFL more than anything else.
What's not included in the announcement is any sense of how users will actually be able to stream the games. Twitter wants to be a "second-screen" experience — the thing you look at while also watching TV — but Twitter itself doesn't have any smart-TV apps, and its livestreaming service, Periscope, is tangential. In other words, if you want to stream the game through Twitter, you'd be doing so on your laptop, or maybe on your phone, unless Verizon's mobile rights take precedence. This could, of course, all change before the fall. Isn't watching sports in 2016 fun?
Most likely, though, we'll end up with a new user interface that places a timeline and the video feed in proximity to each other, maybe housed in an entirely separate app. (Though the last time Twitter tried to move an entire topic of discussion into a separate program, we ended up with the "Twitter Music" app, which, if you don't remember it, exactly.)
The enormously successful NFL won't save Twitter entirely, but shares in the company rose four percent when news of the deal broke on Wall Street. Plus, people in 185 countries around the globe will get to watch ten football games for free, thanks to the same app that lets them tweet "daddy" at the Pope and Bernie Sanders. Cool.