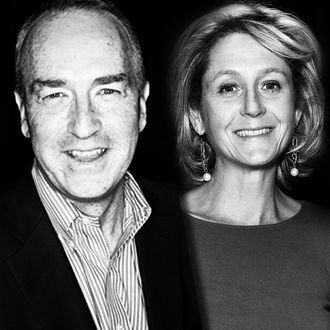 This morning, Twitter announced that it was rotating some of the seats on its board of directors. Newly appointed are PepsiCo CFO Hugh Johnston and entrepreneur Martha Lane Fox, replacing Peter Chernin and Peter Currie. (Guess they "peter"-ed out. Great joke, tweet it.)
Fox has an active presence on the social network; her account was created in 2009. Johnston, on the other hand, seems like a less obvious choice, given that his first tweet ever was sent at 9:29 this morning.
For people worried about Twitter's future (lol), this might appear odd. A guy who's never used Twitter … deciding on the direction of Twitter?
This is good. Twitter, as it currently stands, is having difficulty attracting new users. Who better to articulate that problem and fix it than a professionally accomplished businessperson who has never felt the need to use the service? The worst thing the company could do is to bring on people who believe the social network is fine as is and are averse to change (read: most journalists).
CEO Jack Dorsey also announced that more changes would be coming to the board soon to increase diversity. That's probably also a good move given that the board is mostly white, while the most visible culture on Twitter is generated by black users.