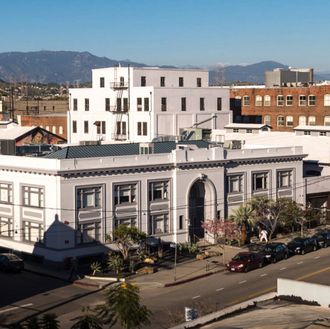 Photo: Joshua Targownik/Courtesy of Hauser Wirth & Schimmel
Can a car-loving city of sprawl embrace shared space and public transit? This week, New York's architecture critic, Justin Davidson, delves into the wave of new buildings and parks that are redefining Los Angeles, beginning with an Urbanist Guide to Los Angeles's Wildly Inventive New Architecture.
The measure of a great city is not just how it grows but how it ages. The film industry has always been in the nostalgia business, yet Los Angeles has usually displayed a casual negligence toward its own past. In 2005, the city's school system tore down the Ambassador Hotel, where Bing Crosby got his start and RFK met his end. That might have been L.A.'s Penn Station, but preservation remains largely a voluntary affair. Laws can stall — but not forbid — demolition, and tax incentives nudge owners to restore historic homes. True, in 1999 the city enacted the Adaptive Reuse Ordinance, which helped developers recycle downtown office buildings into apartments. But the neighborhood's rebirth was a protracted and difficult one, and the Great Recession threatened to kill off the vibrancy that the Great Depression had wounded. Adaptive reuse — the respectful recycling of obsolete architecture — is still a vaguely countercultural concept.
Two recent downtown projects, however, suggest that L.A. is reconsidering that attitude. The first replaces a church with a restaurant, the second a flour mill with an art gallery. Both transformations demonstrate the power of decanting new uses into old buildings.
After the Northridge earthquake of 1994 pummeled one of Los Angeles's oldest landmarks, the 1876 Cathedral of St. Vibiana, the archdiocese took an approach more in line with SoCal disposable culture than with the 2,000-year history of the Catholic Church: tear the thing down and build a new one. That decision triggered the oddest of showdowns. A Church-sanctioned crane hurriedly ripped off the cupola on a Saturday morning, while lawyers scrambled to halt the destruction. Eventually, a developer bought the de-consecrated cathedral and refurbished it for galas and bar mitzvahs. The drama went on for years, but everybody winds up happy at the end of Act III. The archdiocese got its replacement (Our Lady of the Angels, designed by Rafael Moneo), downtown acquired new life and new residents, and, in 2014, the restaurateurs Neal and Amy Knoll Fraser opened their hyperhot restaurant Redbird in the rectory and courtyard of St. Vibiana.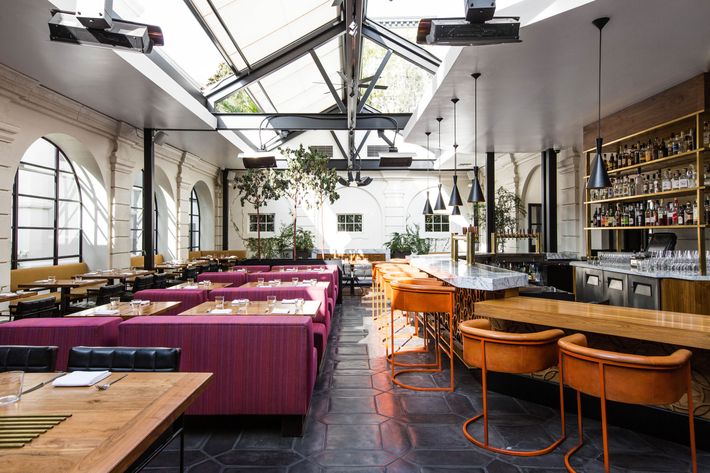 The original 19th-century cathedral is a first-class knockoff of an 18th-century Barcelona church, itself an echo of 17th-century Rome — imitation being the most common form of authenticity. The rectory dates from the 1930s and picks up the church's brawny neoclassicism. The trick for the designer Robert Weimer, a restaurant and hotel specialist, was to imbue such unfashionably heavy architecture with a frothy California feel. His solution was to keep his hands mostly off it. The papal crest still surmounts the rectory doorway. A retractable peaked roof floats above the courtyard, offering neck-stretching views of the rescued cupola. Polished gray tiles reproduce an octagonal pattern from the old structure, magnified to strike a contemporary eye as bolder and less fussy. On the wall beneath the bar, a patterned relief built up from layers of carved walnut hint at the building's Spanish legacy. The slender-legged bar stools appear almost to levitate. These details accumulate happily, especially on a cool dry night when skylights open and the air becomes part of the architecture. What might have come off as an ersatz hacienda instead produces an experience that feels simultaneously fresh and freighted with memory.
A short, though not especially appealing, walk from Redbird leads to the Arts District, where an even more ambitious metamorphosis has recently taken place. The megagallery Hauser Wirth & Schimmel converted a grain-milling complex, built between 1896 and 1929, into a temple of sellable art. There's something at once poignant and inspiring about the fact that a facility for processing crops into food now plows creativity into commodities. It makes you wonder what the future will make out of our galleries.
For Hauser & Wirth's New York branch, the architect Annabelle Selldorf refurbished the Roxy, a defunct roller rink and nightclub, with a very light brush. There, she stripped out the encrustations of lights, sweat, and shiny décor, poured a smooth concrete floor, cleaned up the naked steel trusses, and produced a space that is vast and elegantly neutral. In L.A., Selldorf confined her role to "consulting," a murky term in architectural collaboration, while Creative Space, which bills itself as an "integrated real estate company," is credited as "executive architect/development manager/broker." This unorthodox division of labor yielded a messier, huger, and more ecstatic place than Selldorf's sober Roxy.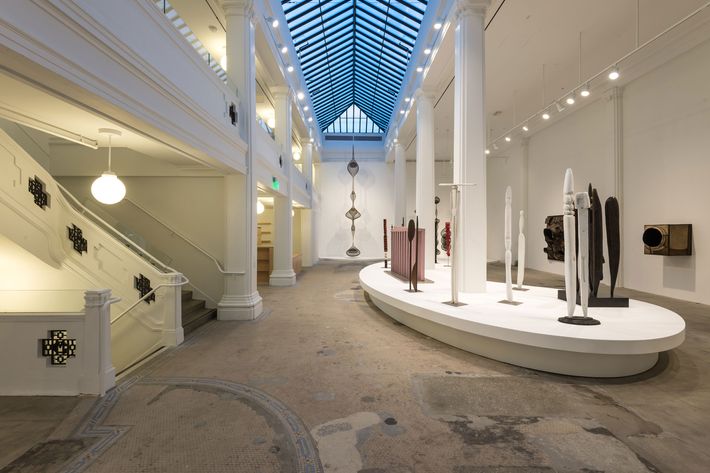 The building has various personalities. With its white arched entrance, gray trim, and prim dentil cornice, the Third Street façade presents a white-collar past. (That section housed a bank and corporate headquarters.) Inside, a neoclassical colonnade supports a balcony and a long peaked skylight, similar to Redbird's. Only the patched, stained floor hints at harder labor.
As you venture farther into the complex, though, it becomes progressively rougher. A long hallway so basic it could practically be a highway underpass leads to a plain paved courtyard, a loading dock, an alleyway, and an open shed beneath a wooden bow-truss roof. A five-story concrete block looms above the yard, one façade partly covered in a spray-painted turquoise mural. It's as if the designers had decided to serve up every conceivable variation on raw space.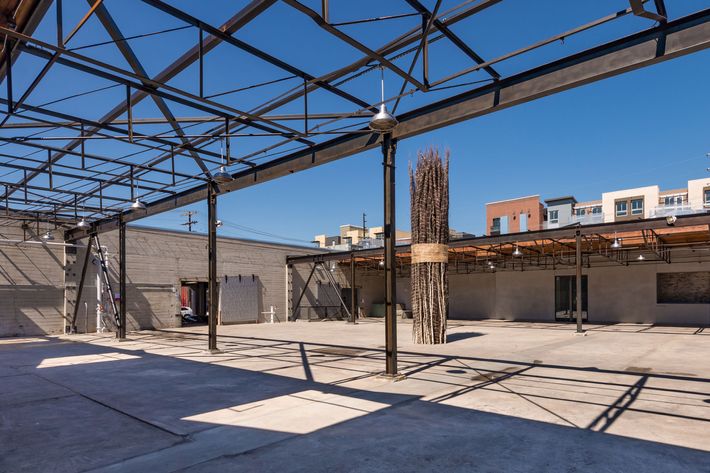 If this embodiment of the art-industrial complex winds up feeling joyful rather than oppressive, it's because it has a casual, improvisatory rhythm. That's an illusion, surely — vintage fireproof doors don't keep running smoothly on inclined tracks without a lot of meticulous tinkering. But then Los Angeles has been trafficking in make-believe so long that this architectural set piece — a high-priced gallery's low-down chic in a deceptively gritty but actually ever-fancier neighborhood — feels entirely natural.