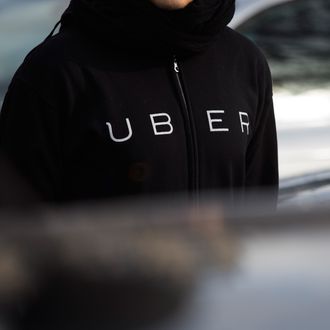 Uber has a complicated relationship with its drivers.
Photo: Geoffroy Van Der Hasselt/AFP/Getty Images
Uber has agreed to settle two class-action lawsuits brought by its California and Massachusetts drivers over the ride-sharing giant's labor practices to the tune of up to $100 million, the New York Times reports.
Under the terms of the agreement, the 385,000 drivers represented in the cases will receive $84 million up-front and an additional $16 million pending a successful initial public offering by the company. Uber also agreed to change its driver-deactivation policies so drivers don't get dropped from the app without good cause and can more easily appeal their deactivation.

Shannon Liss-Riordan, the attorney representing the drivers, issued a statement framing the settlement as a victory, saying that it "stands as a stern warning to companies who play fast and loose with classifying their workforce as independent contractors."
Drivers were seeking a court ruling forcing Uber to reclassify them as employees rather than independent contractors, which would require the company to provide them with certain protections contractors don't enjoy. Uber's willingness to pay such a large sum to settle this case indicates how badly it wants to prevent drivers from being reclassified, which it argues would be fatal to its business model.
In her statement, Liss-Riordan pointed out that the settlement doesn't prevent the drivers from being reclassified by the courts or U.S. labor authorities. The company is in litigation over drivers' classification in several other states, but the Massachusetts and California suits are the largest in terms of the number of plaintiffs.
Uber's settlement, which still requires a judge's approval, doesn't so much as settle the issue as forestall a definitive ruling on the relationship between employers and employees in the so-called demand economy.