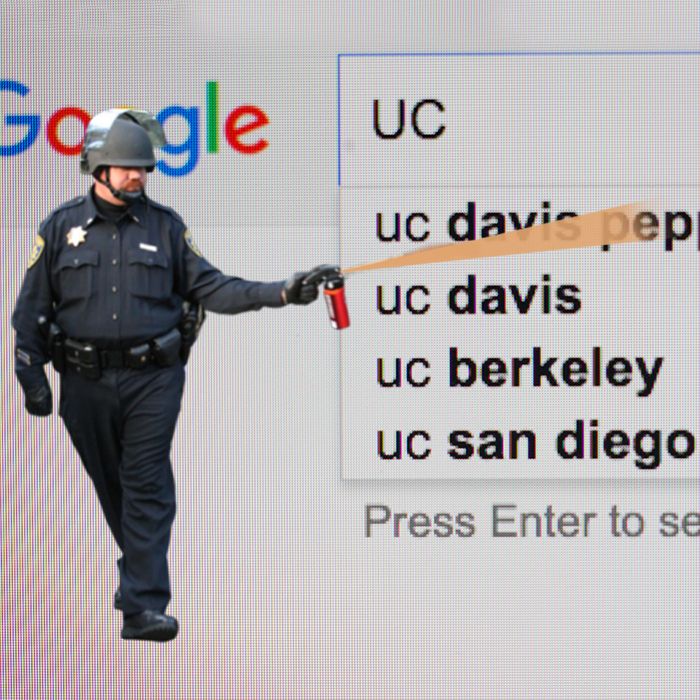 An incredibly effective way to get people to talk about something online is to say that you don't want people to talk about it. This is known as the Streisand Effect, so called after Barbra Streisand, in 2003, tried to get outlets to stop publishing pictures of her house.
The latest very expensive and profoundly funny example of this phenomenon comes from UC Davis, which spent a whopping $175,000 trying to bury posts about the infamous 2011 incident in which a campus police officer pepper-sprayed protesting students. According to the Sacramento Bee, the university was very concerned about the search-engine results that were being served up following the event, as well as social media posts, and so they hired a number of consultants to try and improve the situation.
Here's one video of the incident:
One consultancy, Nevins & Associates, was paid $90,000 out of the public university's operating budget.
"Online evidence and the venomous rhetoric about UC Davis and the Chancellor are being filtered through the 24-hour news cycle, but it is at a tepid pace," the proposal said.

The objectives Nevins outlined for the contract included "eradication of references to the pepper spray incident in search results on Google for the university and the Chancellor."
Another PR firm, IDMLOCO, was paid $82,500 to create a "comprehensive search engine results management strategy."
Following the Bee's report yesterday, UC Davis Chancellor Linda Katehi is once again fielding widespread criticism. In a statement, the university said it tried to clean up its online rep out of fairness to all of the UC Davis affiliates who were not pepper-sprayed.
"It is important that the excellent work underway at UC Davis with respect to educating the next generation of students, pursuing groundbreaking research, and providing important services to the state is not lost during a campus crisis, including the crisis that ensued following the extremely regrettable incident when police pepper-sprayed student protesters in 2011."
Of course, all of this news is just dredging the pepper-spraying up once again. Searching for UC Davis on Google this afternoon will pull up — you guessed it — articles on the internet about UC Davis trying to clean up its online presence. Once again, for the trillionth time, the web eats its own tail, in an endlessly recursive algorithmic nightmare.