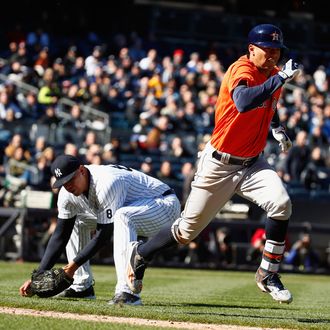 Dellin Betances fields the ball on the play in question.
Photo: Al Bello/Getty Images
Pegging a baserunner is usually limited to schoolyard games of kickball, but the Yankees yesterday found themselves in a situation in which it's a wise decision in a big-league baseball game. In the top of the eighth inning on opening day yesterday, Carlos Correa hit a slow roller that was fielded by pitcher Dellin Betances. Correa ran to first inside of the baseline, and Betances — trying to avoid hitting the runner — made a high throw to first that sailed over Mark Teixeira's head, allowing the go-ahead run to score in an eventual Astros win.
Joe Girardi was furious and argued that Correa should have been called out for interference. The call was allowed to stand — the Yankees played the rest of the game under protest — and, afterward, home-plate umpire Dana DeMuth explained why:
DeMuth explained to a pool reporter that because Teixeira was not impeded from catching the ball, there was no interference. Asked if Betances' only choice was to throw the ball into the runner's back, DeMuth said: "Do it. Throw it into the runner's back. Because then what's happening? He is impeding."
Girardi didn't care much for that explanation, saying that throwing at a runner amounted to "assault" and that the rule should be looked at. From the Post: "What are Dellin's options there? Throw it and hit him in the back? Is that really what we want? No. I don't think there are really a lot of options for Dellin. He tried to throw a touch throw, which most pitchers don't have. I think it's interference, but the rule reads the way it does."